Though the IoT industry is growing with numerous applications, the industry spends billions on recalling defective devices. In fact, between 2018 and 2022, the IoT industry is estimated to spend $10 billion to recall defective devices caused by software bugs. IoT testing ensures that each device performs all its functionalities, ensuring that the entire IoT network can work collaboratively and deliver value to the business as intended.
What is IoT testing?
IoT systems have 4 components:
Applications
Backend/Data centers
Networks
Sensors
IoT testing is the process of checking each component of an IoT system by applying common testing methods.
What are IoT testing approaches?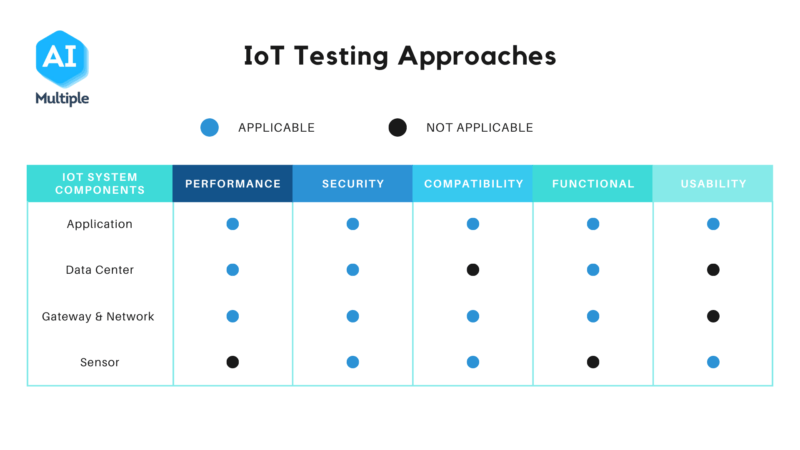 The chart above highlights the possible testing approach scenarios for different components of IoT systems. Some common testing types are
Performance testing includes Network and Gateway (protocols like MQTT, CoAP, HTTP, etc.), backend (database, processing, analytics), and the application components. The speed of the network communication model and the embedded software system's internal computation capabilities are tested in this approach.
Security testing involves both securing the devices themselves and the networks or cloud services they are connected to.
Compatibility testing: IoT devices have a range of software and hardware configurations. As a result, compatibility testing is crucial for testing teams.
Functional testing includes the testing of all functional use cases of an IoT application.
Usability testing ensures the end-user can easily use the system. Usability testing can be subjective; therefore, completing multiple usability tests is recommended. Usability testing applies to sensors in terms of ease of installation and setup as well as durability and reliability. This is especially important for wearable sensors. For example, a non-reliable heart rate monitor may cause more harm than good by making the user nervous with false positives.
Other testing approaches include

Application localization
API
Data Integrity
Reliability and scalability
Compliance
Network Connectivity
Device Interoperability
What are the challenges of IoT testing?
Challenges businesses may face during IoT testing include
Complex use cases and real-time responsiveness: Defects in applications may impact organizations' productivity. However, this may require testing for a large number of scenarios. For example, in a smart factory where each machines are inter-communicating, data loss at any point could cause delays in the production line and, therefore, negatively affect the business's ROI.
Diversity of IoT devices and platforms: The inclusion of diverse firmware and operating systems makes it difficult to test every possible hardware and software combinations.
Diverse IoT communication protocols: For communication of IoT devices, there are a diverse set of protocols to test, such as Extensible Messaging, Message Queuing Telemetry Transport (MQTT), Constrained Application Protocol (CoAP), and Presence Protocol (XMPP).
Resource limitations: Your existing resources may lack memory, processing power, bandwidth, battery life, etc.
A large number of sensor interactions: IoT ecosystem involves thousands of sensors. This forces testers to perform tests at scale.
Security concerns since all tasks are operated using a network.
How does the IoT testing landscape look like?
Testing service of IoT devices can be delivered by different types of companies, including
IoT testing service providers: There are testing vendors that are only specialized in testing IoT devices and software.
Software testing companies: These companies have expertise in testing, yet, IoT is not their only specialty. These companies also mostly offer Q&A and testing automation to clients.
IoT consulting companies: Though some IoT consultants focus only on IoT strategy formulation, product design, or hardware/software consultation, there are consultants that deliver end-to-end consulting services (including ideation, strategy, application development & testing)
What are example IoT testing case studies?
Vendor Name
Application
Hardware/ Software Testing
Case Study
Results
Qualitest
Smart home monitoring system
Both
Functional testing
-Over 99% crash free user sessions for Android and iOS mobile applications was achieved
-2-week test cycle was achieved
-Right-shoring (including a mix of in/out sourcing) significantly reduced cost
ScienceSoft
Smart logistics
Software
Functional, regression and localization testing
-Reduced implementation costs
To learn more on IoT, feel free to read our comprehensive research on the topic:
And if you still have questions on IoT testing, don't hesitate to contact us:
Let us find the right vendor for your business
How can we do better?
Your feedback is valuable. We will do our best to improve our work based on it.