Your digital marketing can be only as targeted/powerful as the data it relies on. When customers interact with a brand, they leave behind first-party data. This data can help the organization deliver more personalized experiences for their customers. Organizations can trust these trails most since they are directly collected from the audience.
With GDPR, first party data is changing, we answered the most important questions on the topic:
What is first-party data?
First-party data is the firsthand information about the audience of a company. It is more valuable than less direct information collected from other parties and can be used to improve marketing, sales and product development efforts.
First, second and third-party data make up all the data of a company
First-party data: Data collected from the audience through cookies from the website, CRM platforms, social media profiles, subscription-based e-mails, surveys, and customer feedback.
Second-party data: Another company's (usually a partner company) first-party data that can be sold or given to you for the benefit of both parties.
Third-party data: Data bought from data provider companies such as SMARTe and Momentum Data. 3rd party data is aggregated data and it hasn't been derived from a direct relationship, that's why the quality of data is moderately lower.
Image below is the results of a survey that highlights the fact that first-party data is more beneficial than second- and third- party data.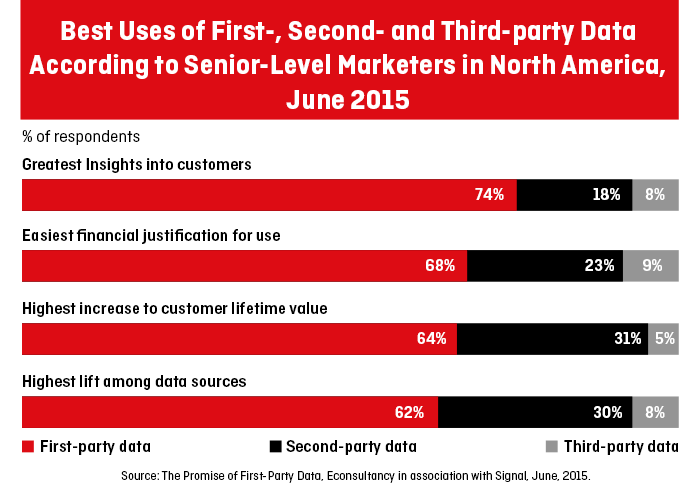 What does it contain?
First-party data reveals the following information about their audience:
Interactions in website/app: This data contains information about
products the audience looked at
social media posts they interacted with
time spent on websites
surveys they participated in
Purchase history: Gateway to understanding consumer trends so that marketers can influence purchasing decisions with knowledge of what products customers may or may not be interested in.
Demography: Includes the characteristics of the users such as age, gender, income, education or geographic location.
Interests: Answers "What is the audience passionate about?".  Organizations can gain insights about customers hobbies and passions.
Why is it important now?
First-party data makes the organization know their customers so that the organization can divide customers into specific groups for better marketing. As businesses utilize more dynamic and personalized ads, they increase the chances of conversion.
Using first-party data is comparably more advantageous than second party data and third party data when dividing customers into groups due to the following reasons:
Accuracy: Organizations collect first-party data directly from the audience. Since there is no additional stop of data until businesses obtain, there is less chance for errors to happen.
Ease of collection: First-party data is already available in organizations' CRM system or it can easily be collected through data management platform. As long as businesses design a method that helps access data,   they are able to process it.
Cost-effectiveness: After the audience's consent, businesses can collect data for free.
How does GDPR change first party data collection?
Companies need to be transparent about data collection
Due to the General Data Protection Regulation (GDPR), companies need to take the audience's consent before collecting personal data. GDPR forces businesses to be more transparent about the data they collect and how it will be used.
Not all first party data requires consent from the end user
Data that is not personal may not require consent. For example, companies like Salesviewer provide third party data on digital fingerprints of company users which can be merged with your visitor data to identify which companies visited your website.
DMPs facilitate GDPR compliance
In order to comply with GDPR, businesses can use data management platforms (DMP) which can make data available to be used for targeted advertising, personalization and content customization. DMPs can also improve data security and provide an audit trail regarding how personal data has been processed.
What are example case studies?
Almost all companies use first party data at least in their sales & marketing efforts. Once this is done, companies start to combine several first party data for further optimizations. This is a relatively simple marketing optimization that can be done by even companies with limited scale and resources to improve their marketing. We provide a few examples below:
Heineken U.K.
Heineken U.K. was struggling to target young male audience through TV ads. Heineken U.K. used first-party data that is collected from users' mobile phones to identify the age of the audience (18 or over) and their location. Heineken U.K. target this audience through SMS and MMS. They send messages about beer campaigns when
the temperature was above 18 Celsius
the potential audience was within the vicinity of a participating bar or supermarket.
Results of this campaign was
15% used the offer in a supermarket within five days of receiving the message,
10% of all recipients redeemed the offer in a pub,
20% higher clickthrough rate compared to industry benchmarks.
Hudgell Solicitors
Hudgell Solicitors wanted to develop a tracking and data analysis solution to understand which traffic sources and keywords were driving revenue. They combined the first party data from CRM with their website analytics to identify most profitable channels. With that said, Hudgell Solicitors observed a 118% increase in ROI, a 57% increase in the case value from online marketing and a 28% reduction in cost per case.
What are the leading companies?
Data onboarding is a relevant solution for first-party data usage. Data onboarding is using first-party data for marketing purposes. Data onboarding vendors upload first-party data to their network and perform marketing analytics on data. We have listed leading data onboarding companies for you:
Behaviour by KBM Group
Circulate
Datalogix
Infosum
LiveRamp
Neustar
Oracle OnRamp
Signal
Since you are interested in collecting first-party data for marketing purposes, learning the specifics of marketing analytics is the next step. We have marketing analytics with AI article, feel free to check it out.
If you need a record of your organization's existing data, a data catalog is what you looking for. We recommend you our comprehensive data catalog guide.
If you still have questions about first-party data, please don't hesitate to contact us:
How can we do better?
Your feedback is valuable. We will do our best to improve our work based on it.