Conversion Rate Optimization (CRO) has been in CMOs' agenda since the first days of internet, yet, increasing competition among businesses and mandatory shift to digital commerce due to COVID-19 pandemic made conversion rate optimization crucial for organizations.
This article is a collection of 30 Conversion rate optimization statistics from the surveys and researches. In this list, you will find CRO stats about:
Why CRO matters
Global Conversion Rate Optimization (CRO) Software Market was valued at USD 771 Million in 2018 and is expected to witness a growth of 10% from 2019-2026 and reach USD 1,932 Million by 2026. (Verified Market Research)
For every $92 spent acquiring customers, only $1 is spent converting them. However, only about 22% of businesses are satisfied with their conversion rates.  (Econsultancy, Econsultancy*)
57% of B2B marketers say conversion rate is the most useful metric for analyzing landing page performance. (Ascend2)
According to VentureBeat study (where 3,000 marketers took part in the survey), the average ROI of using CRO tools is 223%. Only 5% of participants did not generate ROI while 173 marketers said they gained returns higher than 1,000%.
Business Adoption
On average, companies are spending as much as $2,000 a month on CRO tools. (Forbes)
About half of businesses don't pay significant attention to CRO

A majority of companies (53%) spend less than 5% of their total marketing budgets on optimization activities (Econsultancy**)
About half of landing pages don't get tested to improve conversions. (Marketing  Experiments)
44% of clicks for B2B companies are directed to the business' homepage, not a special landing page (MarketingSherpa's Landing Page Handbook)

B2B companies that are using landing pages, 62% have six or fewer total landing pages. (MarketingSherpa's Landing Page Handbook)
A/B testing is the most popular tool for CRO. When marketers were asked which approaches they used for CRO, 58% claimed to use A/B testing and 35% plan to use A/B testing for conversion rate optimization. (Invesp)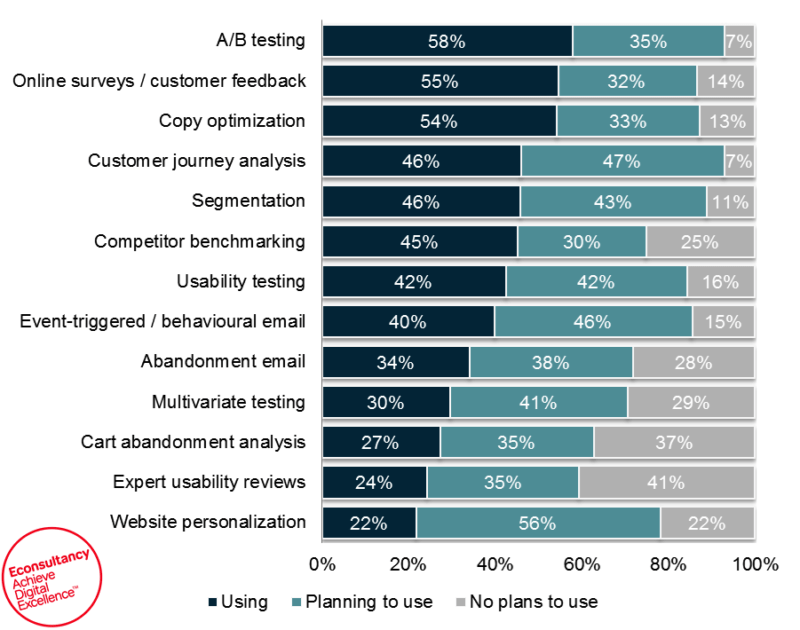 Challenges
According to 2020 State of Conversion Optimization Report, which highlights CRO experts' challenges after COVID-19 pandemic, the need for better processes and buy-in from decision-makers are two biggest challenges with CRO as previous years. However, decreasing traffic due to COVID-19 has hurt some websites (eg. travel agencies).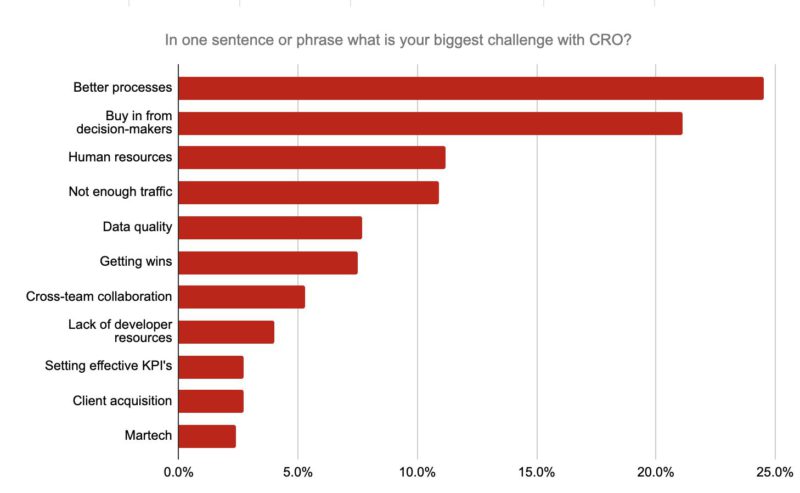 According to marketers, website personalization is the hardest CRO method. 79% of marketers think that website personalization is either very difficult or somehow difficult. (Econsultancy***)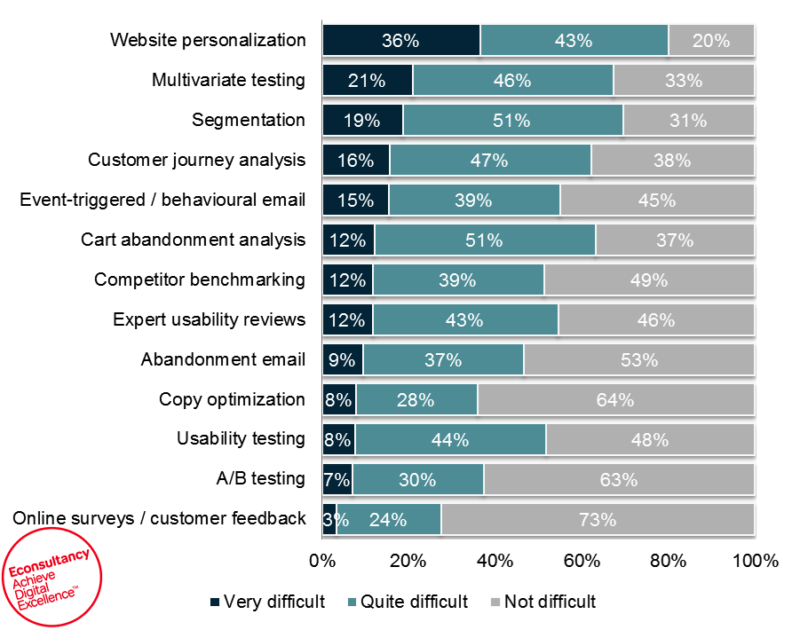 CRO tactics that work
Companies experience a 55% increase in leads when increasing their number of landing pages from 10 to 15. (Hubspot)
Videos on a landing page can increase conversions by up to 86%. (Eye View Digital)
User-generated content (UGC) can increase conversion rates by as much as 200% (Yotpo)
96% of B2B marketers agree that segmentation is the most valuable method for improving conversion rates (SessionCam)
Landing pages with multiple offers get 266% fewer leads than single offer pages. (Wishpond)
Companies with mobile-optimized sites triple their chances of increasing mobile conversion rate to 5% or above. (Adobe)
Personalized CTAs convert 202% better than default versions. (HubSpot*)
Faster websites convert more. 1 second delay in website load time means a 7% reduction in conversions. (Liveseysolar)
Customer surveys on factors that impact conversion
Less is more. 87% of consumers say that a 'complicated' checkout process will make them abandon their shopping cart. (Facebook)
Trusted websites convert better. 17% of users have abandoned a checkout flow during the last 3 months because they "didn't trust the site with their credit card information and respondents also state that any symbol indicating security on the checkout page can increase user trust. (Baymard Institute)
CRO tools
We have identified >50 companies providing CRO tools which are classified in 6 categories, including A/B testing, usability testing, semi-autonomous testing, market research & customer feedback, analytics and full suite solutions. (AIMultiple)
Google Analytics and Google Optimize are, by far, the most used web analytics and testing tools for CRO. (CXL)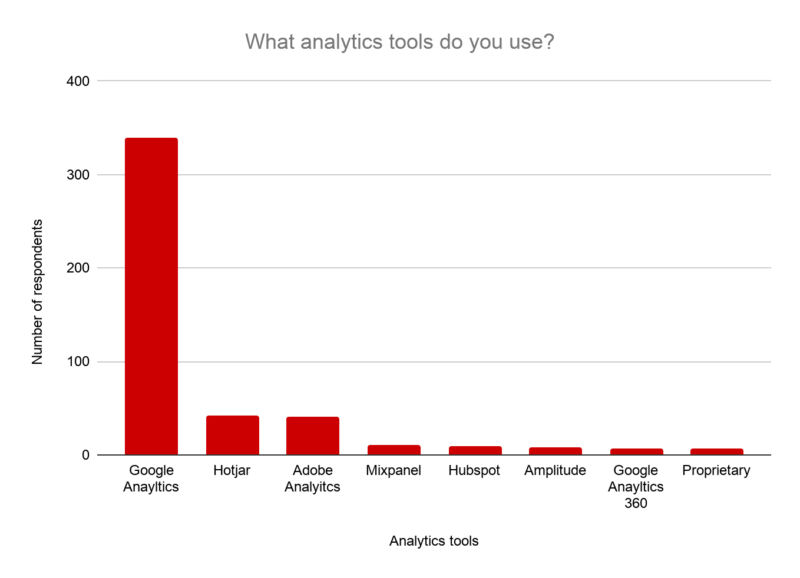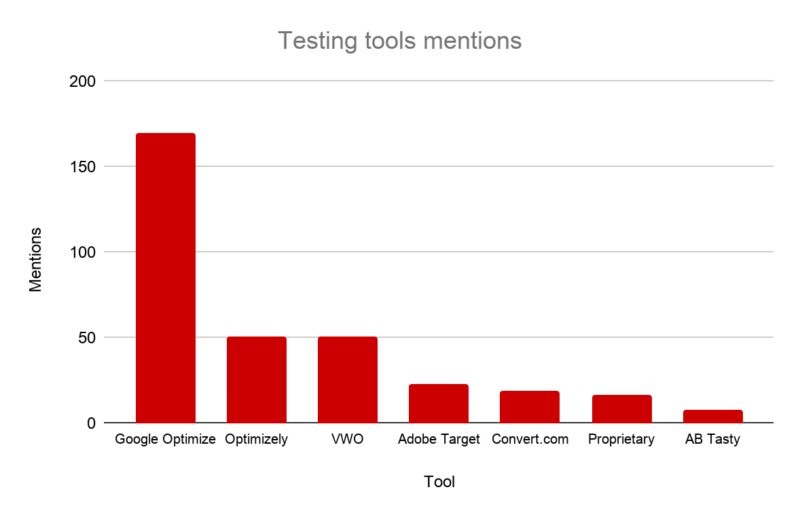 CRO benchmarks
Conversion rate of online shoppers worldwide by device are (Statista)

Desktop: 3.9%
Tablet: 3.5%
Mobile: 1.8%

Average conversion rates for a (Wishpond*)

B2B landing page: 13%
B2C landing page: 10%

Referrals have the highest average conversion rate among all acquisition channels. (Marketo)
3 to 4 Buyer Personas usually account for 90+% of a company's sales. (Mark Schaefer)
Average completion rate of multipage forms is 14%, while that of single page forms is 4.5% when comparing forms of similar length and complexity. Multi page forms can provide larger fonts and progress bars, making it easier to fill them.  (Formstack)
If you still have questions on conversion rate optimization or CRO vendors, feel free to check our vendor list on AIMultiple.com or contact us:
Let us find the right vendor for your business
Source: 2020 State of Conversion Optimization Report, Adobe, Baymard Institute, CXL, Econsultancy, Econsultancy*, Econsultancy**, Econsultancy***, Eye View Digital, Facebook, Forbes, Formstack, Hubspot, HubSpot*,  Invesp, Liveseysolar, MarketingSherpa's Landing Page Handbook, Mark Schaefer, Marketo, Statista, SessionCam, Verified Market Research, VentureBeat, Wishpond, Wishpond*, Yotpo
How can we do better?
Your feedback is valuable. We will do our best to improve our work based on it.