Intelligent character recognition technology was developed in the 90s relying on OCR and pattern matching to automate extracting machine readable data from documents. This machine readable data would then be used to help companies automatically process documents. Aim of iOCR was to help businesses handle paper based processes without any human intervention by automating data extraction from paper documents. With the rise of deep learning (DL) since 2010s, data extraction solutions relying on DL can achieve much higher rates of automation compared to iOCR solutions.
This problem is still relevant. Digital transformation is a must for businesses. However, digitalization is not easy, especially for companies whose data mostly stored in paper-based documents. According to a study conducted by AIIM, 49% of data capture volume is paper, and businesses need to convert their paper documents into digital systems to leverage data in digital documents.
What it Intelligent Character Recognition (ICR)?
Intelligent character recognition (ICR) or intelligent optical character recognition (iOCR) is an extended version of optical character recognition (OCR) technology that converts scanned images of text into machine-readable data using mostly rules based pattern recognition.
This is not the definition you may find when you look for ICR's definition in resources like Wikipedia. It seems that most definitions of this topic are written by vendors that exaggerate the capabilities of their solution category. ICR or iOCR is a fragile technology leading to low levels of automation. As a result, companies are migrating from iOCR solutions to deep learning based data extraction solutions and the interest in ICR is falling as seen below: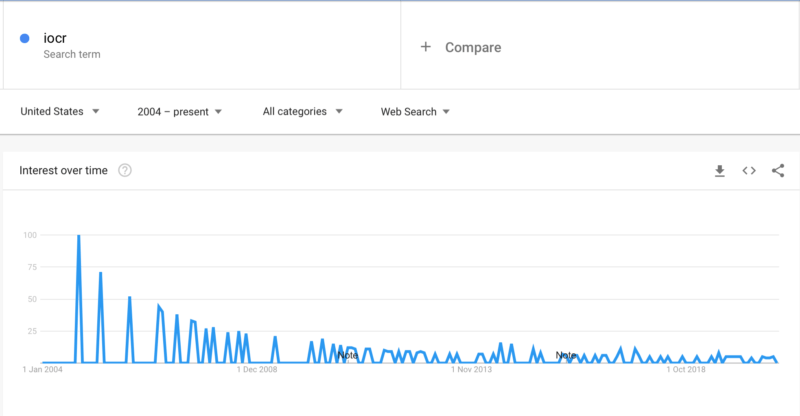 What is the difference between ICR and OCR?
While OCR converts images into text, ICR converts images into machine readable data.
You can see below Google Cloud Vision OCR converting an image into text: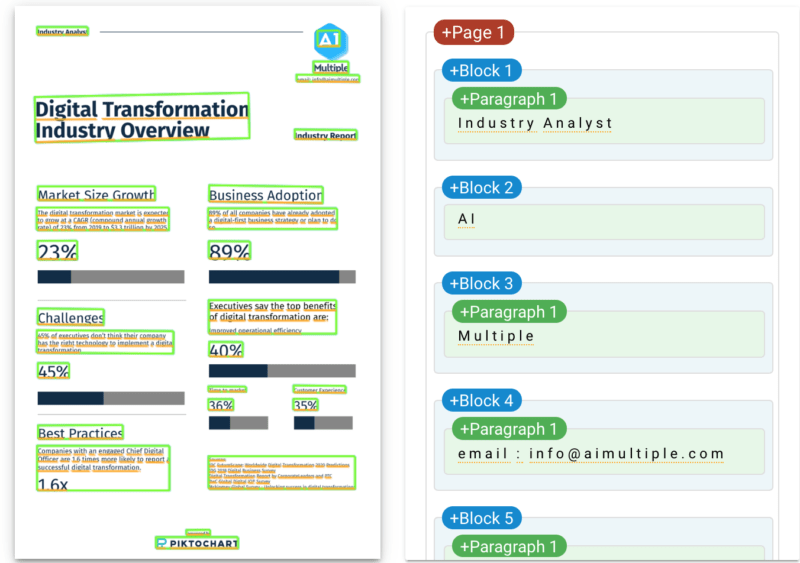 An iOCR would convert the text into structured data. To be able to do this, an iOCR works with specific types of documents where specific data fields need to be captured. Here you can see an invoice shared as an image converted to machine readable data: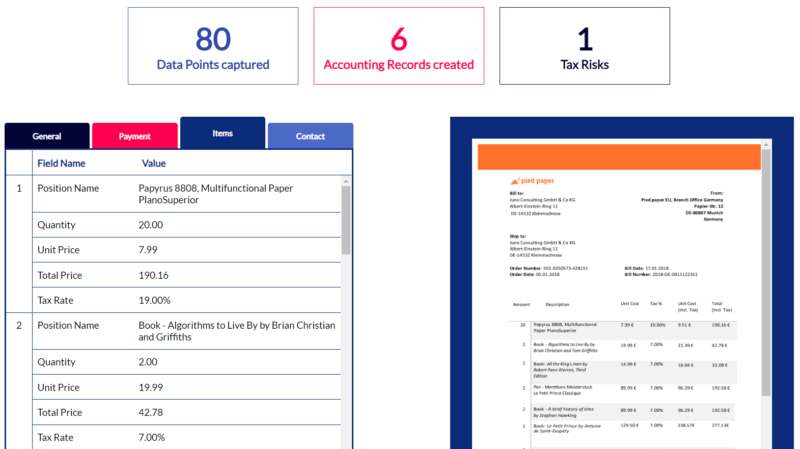 In this example, you can also see that Hypatos was able to recognize tax risks in the documents and create accounting records. This is beyond what iOCR players generally provide and enables further process automation. For more, feel free to read our article on invoice automation.
In addition, ICR is a more expensive technology since it goes one step further than OCR and provides machine readable data.
If you want to learn more on optical character recognition technology, feel free to check our related articles:
What are the types of ICR software?
ICR needs to be specific to the type of document it will process. ICR can rely on
Constraint handprint. In these documents, specific areas constrained by bounding boxes are left for humans to fill out with clear labels next to them. This enables ICR to identify key-value pairs with ease.

Document type specific ICR: Using specific text clues, rules can be used to extract data from documents. This is commonly used to process invoices. For example, text like "Total", "total amount", "gross amount", "amount due" tend to be followed by the amount to be paid. Such rules are programmed into ICR to build document specific ICR solutions. However, these are fragile approaches as suppliers use myriad of different terminology in documents and rules are not a robust approach to deal with them. For more, please see our article on modern approaches to data extraction involving deep learning.
What are its use cases?
ICR applications focus on document capture and input captured data into the company's enterprise content management system. Common documents where ICR can help are
offers
purchase orders
employee onboarding forms for payroll
travel expenses
customer surveys
Yet, there are some industry-specific use cases as well. For banking;
loan contracts
bank statement
For logistics;
freight bills
bill of lading,
For real estate;
VA home loan forms
borrower forms
homeowner and contractor agreements
FHA applications
Healthcare & Insurance;
patient admittance forms
medical records
medical prescriptions
claims
You can read more about these use cases in our document automation guide.
What are the benefits of intelligent character recognition vs manual processes?
Operational benefits
Reduced workforce: ICR technology can reduce human resources requirements in data inputting processes.
Improved efficiency: Automating paper-based document processes such as data extraction saves time and reduces errors, which will improve the efficiency of document operations compared to manual operations
Digitization benefit
Improved security: Paper documents can be misplaced, stolen, or extinguished. Storing paper-based documents in digital formats prevent such cases. However, organizations should also leverage information security technologies to prevent any data breach in the server.
Reduced reliance on a physical office: Since all paper-based documents can be converted into digital, organizations don't need to rent an office to store their file stack.
Improved customer service: Once documents are scanned and converted into computer-readable text, it is easier for the customer service team to access personal or order-related information to process customers ' requests.
Makes documents editable: In any update regarding the document, companies can make changes to the document rather than rewriting it.
Improved Compliance: Digital documents enable audit trail that eases the maintenance of records and other sensitive data.
Though iOCR has significant benefits, deep learning based data extraction approaches build on these benefits and provide data at higher levels of accuracy.
What are the benefits of deep learning based data extraction vs iOCR?
Upgrading to a deep learning based data extraction solution has the same types of benefits of an iOCR but the positive impact is significantly bigger. Deep learning based approaches improve data extraction accuracy and this significantly reduces operational costs.
For example, consider a company aiming to get 10 data fields from a document like invoice. Typically, iOCR solutions tend to provide each field with 50% accuracy. This leads operators to examine almost all documents and make changes to 5 fields (10 x 50%) on average. A deep learning based solution with 98% field level accuracy could lead to ~80% of documents being processed with no human involvement, achieving a significant automation improvement.
If you want to read more about Intelligent Character Recognition, our whitepaper on document automation may also interest you:
And if you need guidance to choose the right ICR vendor, feel free to contact us:
Let us find the right vendor for your business
How can we do better?
Your feedback is valuable. We will do our best to improve our work based on it.