Quantum computing, which has wide-ranging applications in optimization, research and cryptography, is driven by these organizations:
End-to-end solution providers
Quantum hardware builders
Software & services companies
Research labs
Companies that use quantum computers in their business (Not the focus of this article)
Quantum hardware is an emerging computing technology which relies on complex hardware. As in the early days of personal computing, there are companies specialized on hardware, software and end-to-end solutions. In the early days of computing, Apple built end-to-end solutions, while Microsoft specialized in software and many OEMs and IBM (Original Equipment Manufacturers) specialized in hardware and services.
Different Perspectives On Quantum Computing Ecosystem
In all 4 ecosystem maps on quantum computing, software and hardware vendors were identified. However, there are also significant differences between these ecosystem maps. BCG focuses on end-to-end providers, Tracxn includes research labs, Everest points out startups and Tractics focuses on use cases of quantum computing.
Because quantum computing is still a developing technology, it is difficult to draw definite limits in the ecosystem. When looking at quantum computing from different sides, different ecosystem maps can be prepared. Especially large companies can take place in different areas of the ecosystem at the same time.
BCG
BCG examined the quantum computing ecosystem across four main lines: End-to-end providers, Hardware & system players, Software & services players and Specialists.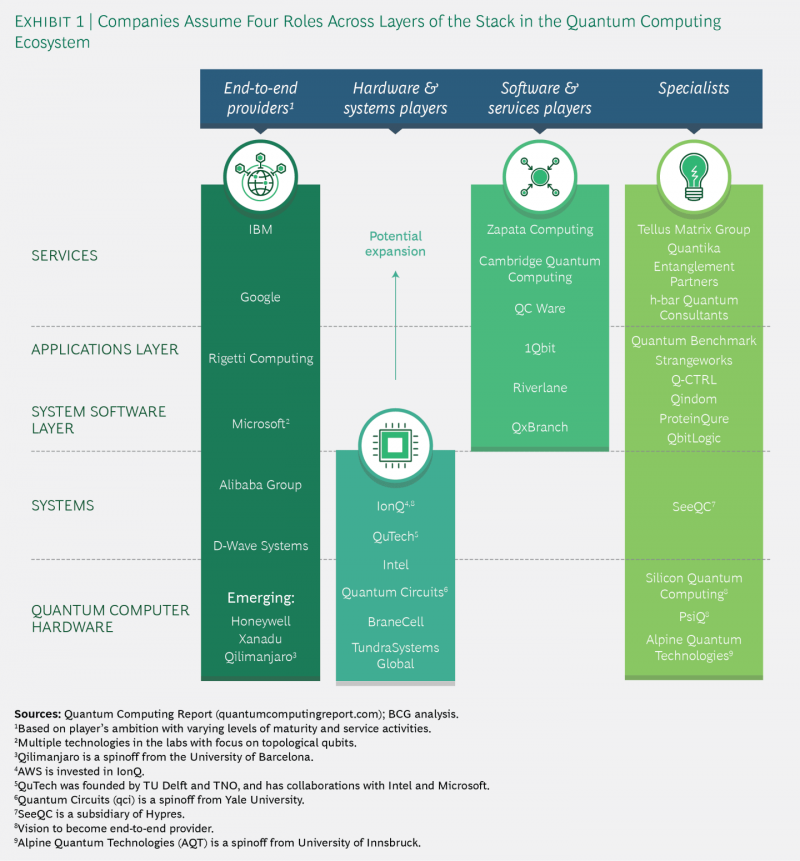 Source: BCG
Tracxn
Tracxn's Quantum Computing ecosystem focuses on Quantum Hardware, Quantum Software. This market map also focuses on Research Labs, technology enablers(quantum circuits,sensors) which provide hardware inputs to quantum computers and companies focused on applications of quantum computing.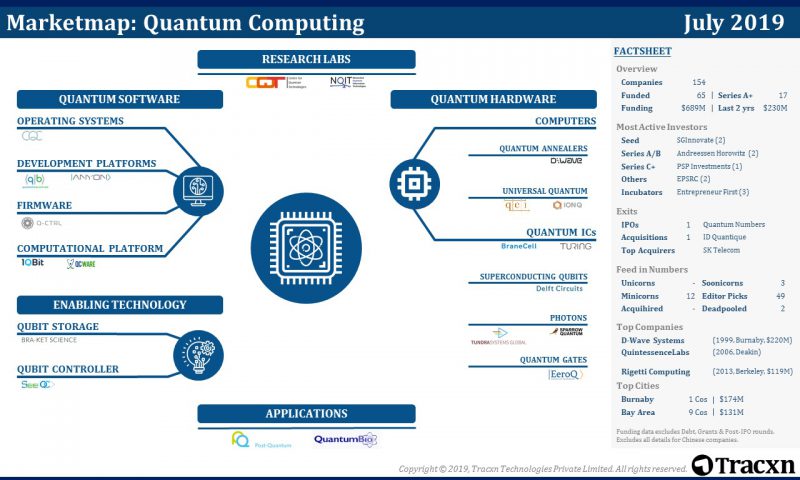 Source: Tracxn
Everest
Everest's perspective on quantum computing ecosystem focuses on four different categories:
Quantum development kits
QCaaS subscription services
Partnership with startups
Quantum hardware
With this breakdown, there are companies that overlap on different sides of the ecosystem. Additionally, we see subscription services as a way to monetize hardware so we did not consider it to be a different category.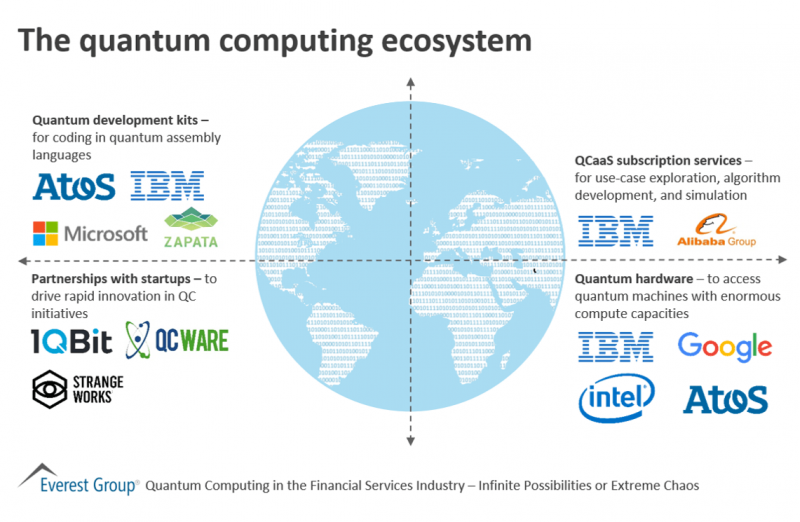 Tractics
Tractics' market map includes companies which use quantum computing as a tool for their applications. However, quantum computing applications is a category with numerous companies. We think it should be analyzed separately rather than including in an ecosystem map that also covers quantum hardware and software companies.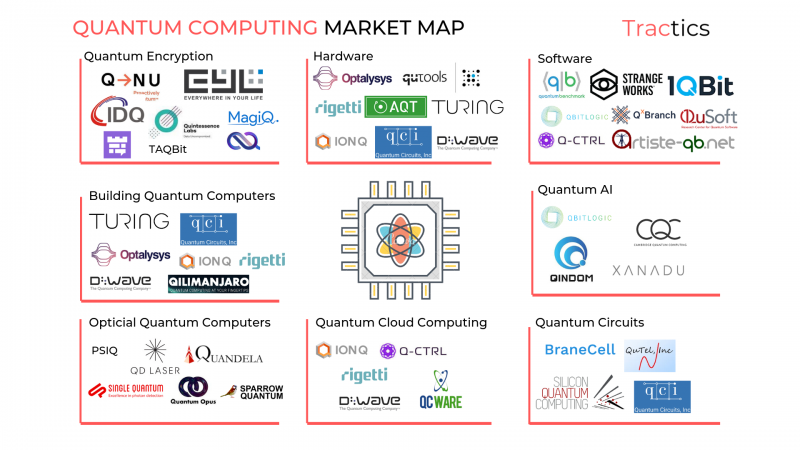 What are the different types of quantum computing companies?
End to end solution providers
Tech giants; IBM, Google, Microsoft and, growing start-ups Rigetti, D-wave can be considered end-to-end providers. These companies enable other companies to test quantum solutions on cloud.
D-wave is the first company that sold a quantum computer to American defense company, Lockheed Martin.
IBM provides access via the cloud to test the quantum algorithms developed with IBM-Q.
Microsoft provides cloud quantum computing as Azure in collaboration with IONQ, Honeywell and QEI.
Google, Alibaba,  D-Wave and Rigetti provide end to end services.
Hardware Systems Builders
Companies interested in quantum hardware often work on optimizing quantum computers and creating environments for simulations. Tech giants offering end-to-end solutions are included here as well. Hardware side of Quantum Computing can be separated into two: Universal gate based Quantum Computers (also called general purpose quantum computers) and Quantum Annealing.

2a)Quantum Computer Providers
D-wave, IBM, Alibaba, Intel, Rigetti, Google are the main players for this sector. These companies are racing to produce the first commercially relevant quantum computer.
2b)Quantum Circuitry Providers
QCI, Delft Circuits, BraneCell, Turing, See QC are among the companies to develop and commercialize superconducting quantum technologies.
| Company Name | Area | Number of Employees |
| --- | --- | --- |
| D-wave | Quantum Computer Provider | 180+ |
| IBM | Quantum Computer Provider | 350,000 |
| Alibaba | Quantum Computer Provider | 102,000 |
| Intel | Quantum Computer Provider | 107,400 |
| Rigetti | Quantum Computer Provider | 146 |
| Google | Quantum Computer Provider | 85,050 |
| Quantum Circuits, Inc. | Quantum Circuitry and Providers | 11-50 |
| Delft Circuits | Quantum Circuitry and Providers | 11-50 |
| BraneCell Systems | Quantum Circuitry and Providers | 51-200 |
| Turing Inc. | Quantum Circuitry and Providers | N/A |
| See QC | Quantum Circuitry and Providers | 1 to 10 |
Software & Services Companies
Another part that works to bring real-world solutions with quantum computing is quantum software providers. The main task of these companies is to produce solutions using quantum computing, according to the needs of the users.
3a-)Operating systems and firmware
Cambridge Quantum Computing and Q-ctrl works on improving the optimization of quantum hardware and provide solutions to access the quantum world with software
3b-)Development Platforms
Companies in this category focus on creating programming algorithms and tools. Zapata, Anyon, Qb are among these companies.
3c-)Computational Platforms
1Qbit, QCware are the companies that aim to solve difficult problems of industry by using quantum computing software techniques.
| Company Name | Area | Number of Employees |
| --- | --- | --- |
| Cambridge Quantum Computing | Operating systems and firmware | 10 to 50 |
| Q-ctrl | Operating systems and firmware | 30 |
| Zapata | Development Platforms | 35 |
| Anyon | Development Platforms | 13 |
| Quantum Benchmark | Development Platforms | 10 |
| 1Qbit | Computational Platforms | 103 |
| QC Ware Corp. | Computational Platforms | 10 to 50 |
Research Labs
There are numerous research laboratories founded by university-industry cooperation. Additionally, there are government funded labs. Some of them are:
Quantum Computing Laboratory- MIT Lincoln Laboratory
Institute for Quantum Information and Matter-Caltech
Chinese Academy of Sciences with Alibaba
UK National Quantum Technologies Programme
National Quantum Initiative Act- US House of Representatives
Microsoft contributed research Labs at TU Delft, Niels Bohr Institute, University of Sydney, Purdue University, University of Maryland, ETH Zurich, UCSB
If you want to see the quantum computing ecosystem together in one list, we have also prepared a sortable, prioritized list of quantum computing companies.
If you have questions about how quantum computing can impact your business and how you can get started, we can help:
How can we do better?
Your feedback is valuable. We will do our best to improve our work based on it.