Quantum computing is an emerging field that has the potential to fundamentally change computing and build smarter machines. To understand the potential of quantum computing (QC), feel free to read our research on QC or its applications.
We have compiled predictions & facts about the field:
Market Size Forecasts
The Global Quantum Computing Market was valued at USD 89 million in 2016 and is projected to reach USD 949 million by 2025, growing at a CAGR of 30% from 2017 to 2025 (MarketWatch)
Mckinsey claims that automotive will be one of the primary value pools for quantum computing with a high impact noticeable by about 2025. They also estimate $2 billion to $3 billion economic impacts of related technologies for the automotive industry by 2030. (Mckinsey)
There could be between 2,000 and 5,000 quantum computers worldwide by 2030.  (Mckinsey, Consultancy.co)
Adoption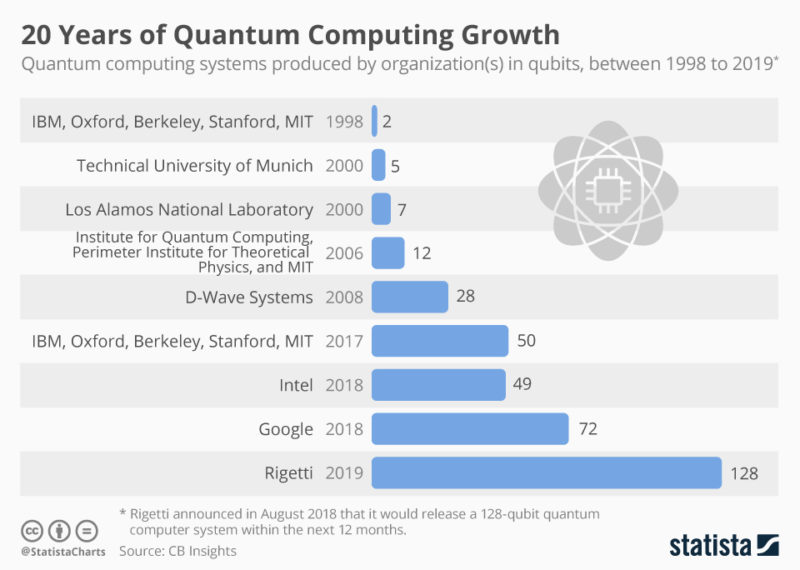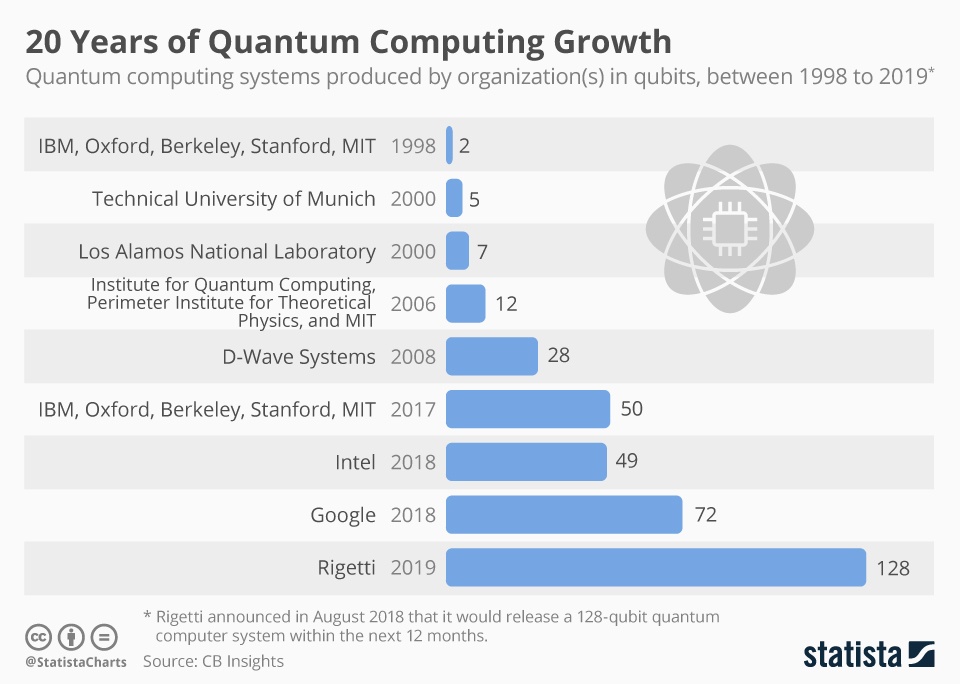 Use Cases & Applications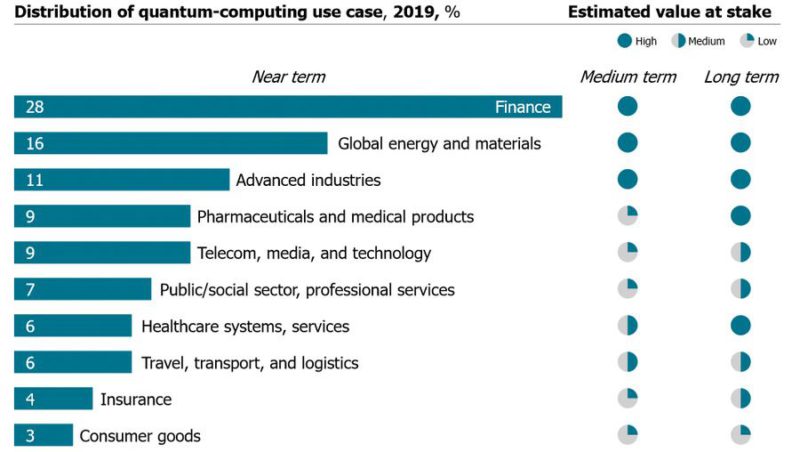 Finance (28%), global energy and materials (16%), and advanced tech sectors are the most applicable industries for quantum computing. (Mckinsey, Consultancy.co)
Interesting Facts
Quantum computing as an alternative to classical computing was thought up by physicist Richard Feynman in 1982. (INSEAD)
Quantum computing requires a cold operating environment since particles must be in a stationary phase to be measured. The highest temperature that quantum computer chips have been operated is -272°C. (NewScientist)
In 2011, the world's first commercial quantum annealing machine, operating on a 128-qubit, was developed by D-Wave and its price was about US$10,000,000. (HandWiki)
As of 2018, China leads in publications on quantum computing ~3000 scientific publications. The United States follows China with ~2500 publications. (BCG)
It takes 10 years for Boolean logic computers to complete a task the latest Google quantum computers do in 3 seconds. (Seed Scientific)
Total Fundings of Startups
D-Wave is the most funded private quantum computing company with $216M in 19 rounds (Crunchbase)
Rigetti Computing: $198.5M in 9 rounds(Crunchbase)
The University of Oxford (UK) is the entity that has gained the most public funding: $117.59 M for 62 grants (PwC)
IonQ: $52M in 3 rounds (Crunchbase)
Silicon Quantum Computing: $66M (PwC)
Cambridge Quantum Computing (CQC): $48M in 7 rounds (Crunchbase)
1QBit: CA$45 in 4 rounds (Crunchbase)
IQM: €29M in 3 rounds (Crunchbase)
This list is not comprehensive, feel free to check our regularly updated, sortable quantum computing vendor list.
You may also like these articles if you want to learn more on quantum computing:
If you still have questions on quantum computing, don't hesitate to contact us:
How can we do better?
Your feedback is valuable. We will do our best to improve our work based on it.