Analytics vendors and non-technical employees are democratizing data science. Gartner predicts that more than 40% of data science tasks will be automated by 2020.  Organizations are looking at converting non-technical employees into data scientists so that they can combine their domain expertise with data science technology to solve business problems.
What does citizen data scientist mean?
Citizen data science is a term initiated by Gartner. They define it as "a person who creates or generates models that use advanced diagnostic analytics or predictive and prescriptive capabilities, but whose primary job function is outside the field of statistics and analytics."
In short, they are non-technical employees who can use data science tools to solve business problems.
Citizen data scientists can provide business and industry domain expertise that many data science experts lack. Their business experience and awareness of business priorities enable them to effectively integrate data science and machine learning output into business processes.
Why are citizen data scientists important now?
Interest in citizen data science is almost tripled between 2012-2020, as seen below.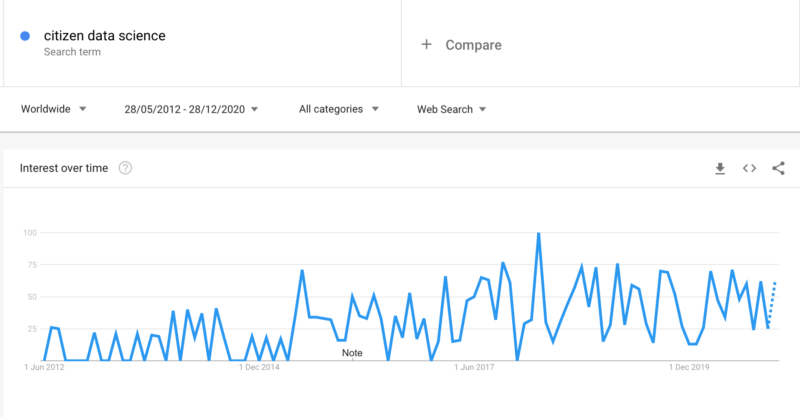 Reasons for this growing interest are:

Most industry analysts are also highlighting the increased role of citizen data scientists in organizations:
What are the tools used by citizen data scientists?
Various solutions help businesses to democratize AI and analytics:
If you are looking for vendors for these solutions, feel free to check out related vendor lists:
What are best practices for citizen data science projects?
Create a workspace where citizen data scientists and data science experts can work collaboratively
Most citizen data scientists are not trained in the foundations of data science. They rely on tools to generate reports, analyze data, create dashboards or models. To maximize citizen data scientists' value, you should have teams that can support them which also includes data engineers and expert data scientists.
Train citizen data scientists
Though citizen data scientists' knowledge of the business is advantageous for the business, their inexperience in data science makes projects prone to errors. Citizen data scientists could be trained in the following areas:
Classify datasets based on accessibility
Due to data compliance issues, all data types should not be accessible to all employees. Classifying data sets that require limited access can help overcome this issue.
Create a sandbox for testing
Sandboxes, software testing environment, which include synthetic data and which are not connected to production environments help citizen data scientists quickly test their models before rolling them to production.
If you still have questions on citizen data science, don't hesitate to contact us:
Let us find the right vendor for your business
How can we do better?
Your feedback is valuable. We will do our best to improve our work based on it.