A chatbot is one of the primary applications of artificial intelligence. Its potential benefits and promising results of successful bot examples make the technology popular among companies. However, multiple chatbot projects fail due to complexities of natural language and businesses should follow best practices to minimize risks.
We compiled 80+ up-to-date chatbot statistics from industry and customer surveys to help you in your chatbot research/feasibility study. You can explore below pros and cons of chatbot and make a data driven decision before starting a chatbot project.  We examined chatbot stats based on 6 categories  (13 sub-categories). If you came for a quick answer, you can select the category from table of content below:
Market forecasts
Market Size Forecast
Interest in chatbots is increasing and market is expected to be $1+ billion by 2025.
The global chatbot market is expected to reach USD$1.3 billion by 2025, growing at a CAGR of 24% (Cognizant)
37% of AI start-up founders said chatbots and virtual agents would be the top consumer application for AI over the next five years. (Emerj)
Projected value of chatbot eCommerce transactions by 2023 is $112 billion. (Juniper Research)
According to Google Trends, interest in chatbots has increased almost 5 times over the period of 5 years.

Prevalance of chatbots
~50% of large companies (i.e. those surveyed by companies like Accenture & Gartner) are considering more investment in chatbots.
Business Adoption
Current Adoption
Though adoption of chatbots are more widespread among B2B companies, adoption growth hasn't reached its plateau yet.
Demographic Adoption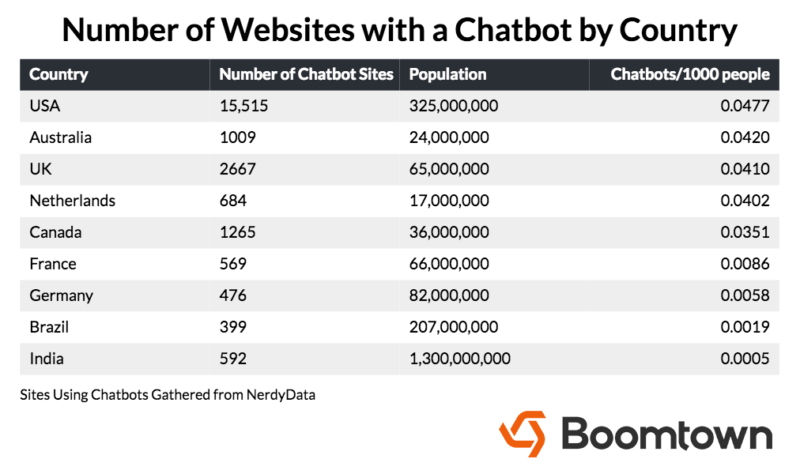 Customer Perspective
Customer Expectations
In most surveys, at least 30% of consumers are enthusiastic about chatbots. This is likely to be driven by desire for 24/7 service and the user experience can be improved by providing an option to transfer to a live agent.
Why customers would interact with a bot
Results show that customers use chatbots for problem resolution or product purchase when they prefer a fast response.
Positive feedbacks from customers
Negative feedbacks from customers
Customers don't trust the understanding capabilities of the chatbots they interacted with. As a result, they prefer humans to take over conversations. This could be remedied with better chatbots or more smooth chatbot to human handover processes.
Customer breakdown by age
As expected, younger users tend to prefer bots more compared to older users:
Benefits
The key benefit of chatbots is enhancement of customer service so that businesses can deliver a better customer experience which eventually leads to increased revenue.
Challenges
Industry Specific Stats
According to Chatbot Life's 2019 chatbot report, top 5 industries that benefit from chatbots are real estate (28%), travel (16%), education (14%), healthcare (10%), and finance (5%). Therefore, we compiled statistics from these industries:
Finance
For more, feel free to check our banking chatbot research.
Travel/Hospitality
Retail
Recruiting
For more on recruiting chatbots, feel free to check our related article.
And if you still have questions about deploying chatbots, don't hesitate to ask us. We would like to help:
Let us find the right vendor for your business
Sources:
How can we do better?
Your feedback is valuable. We will do our best to improve our work based on it.