IT process automation (ITPA) solutions support IT departments of businesses to improve the efficiency of their IT operations. McKinsey shares that during their work at two financial service companies, they found out that 90% of IT teams focus on low-value tasks like testing, deployment, maintenance. In contrast, only 10% focuses on business priorities and market-differentiating work. Considering that around 30% of IT teams consist of developers, IT organizations devote too little of their resources to market-differentiating work by IT as seen in the below image.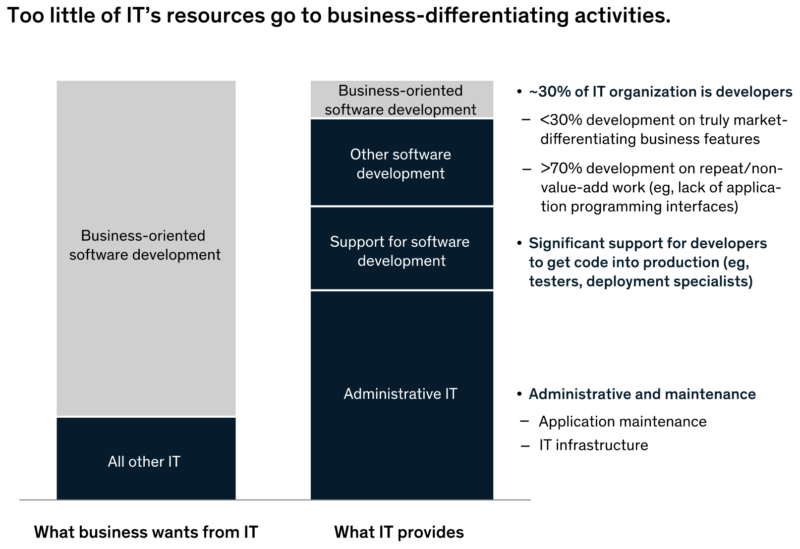 Characteristics of top ITPA use cases
ITPA can solve this issue and help IT organizations to spend more time on business priorities by handling low value-adding tasks. Here are some characteristics of IT tasks which are suitable for IT process automation:
High volume of transactions

Stable environment

Limited human intervention

Easily decomposed into more explicit tasks

Prone to errors
However, of course, an IT process automation use case doesn't have to include all these characteristics above. For example, businesses can implement ITPA tools for some IT operations with a relatively low value of transactions, but it is needed because they are performed in very high volumes.
Manage service requests automatically
Businesses can start IT process automation with service requests. They can leverage automation to receive and organize service queries from help desks, customer-facing platforms, and emails. While doing that, ITPA tools can filter out duplicate queries, answer frequently asked questions automatically thanks to predefined triggers and input related requests into the same ticketing system.
Alternatively, unified support platforms may also offer similar functionality. However, adopting a new support platform is harder than implementing an ITPA automation.
Automate asset management
IT departments can use IT process automation tools to list their software assets, continuously monitor them, and update them when needed. This enables businesses to be aware of all their IT assets' performance. You can read more about this in our in-depth software asset management (SAM) guide.
Automate job scheduling
It is significant to identify which task to perform when in IT operations, like any other process. IT process automation solutions can monitor real-time events and schedule tasks dynamically to achieve a more significant impact. For that, several SLA (Service Level Agreement) measures are predefined. Then, ITPA tools schedule jobs to optimize these measures while monitoring all events in the IT system in real-time and forecasting future events and IT workload.
Optimize storage capacity
To maintain optimal storage capacity, IT teams need to monitor their disk space periodically. However, cleaning up disk space can be a repetitive and time-consuming task when performed manually. Another challenge is that it becomes harder to have sufficient disk space every day because of growing log or temporary files in servers. These files are created in events like crashed servers or unscheduled downtime for many applications.
IT process automation tools can perform storage capacity optimization with predefined events. When specific triggers are implemented, ITPA solutions can clean up unnecessary data from disks and optimize IT servers' capacity. For example, when the disk space reaches a specific capacity, ITPA tools can run controls and remove or archive unnecessary files. This can also help servers to work with improved performance.
Automate onboarding process
Technical setup and provisioning for new employees take time and prevent technical personnel from focusing on more advanced tasks. IT process automation tools can take over onboarding processes and automate technical setup for new employees.
Automate offboarding process
As in onboarding, ITPA tools can also handle similar processes for offboarding operations.
Automate application testing
Manual tests are time-consuming and challenging tasks. IT process automation tools can speed up routine testing processes, enabling the team to test scenarios that require more creativity. This enables significant time savings, reduced costs and a higher chance of detecting any systems errors earlier. This is also beneficial because in general, the earlier bugs are fixed, the less effort is spent fixing them.
Security and compliance
With IT process automation, businesses can generate automatic compliance controls as part of larger workflows and perform data collection and reporting regularly. IT automation collects and structures data to gain insight and influence over internal processes. Each step of operations can be stored in a database, along with reports, permits, timestamps, and other information for compliance purposes.
Achieve digital transformation
Digital transformation is critical to the success of today's businesses. IT process automation can support companies in this area. ITPA tools can accelerate the introduction of a digital transformation by creating integrated workflows for process management, workflow planning, preparation, and governance. You can read more about digital transformation in our in-depth guide.
Automate other routine IT operations tasks
IT process automation tools can automate regular daily server scans and upgrades to maintain the infrastructure stability. ITPA tools can also track and operate automated system reports about performance and usage.
If this article interests you, feel free to read our related articles below:
Here are some RPA-related articles, if you want to learn more about automation:
If you have questions about how IT process automation tools (ITPA) can help your business, we can help:
Let us find the right vendor for your business
How can we do better?
Your feedback is valuable. We will do our best to improve our work based on it.