Enterprise search is a valuable tool for businesses since it allows employees to perform instant searches within the company's knowledge base. Enterprise search software decreases the amount of time it takes for an employee to find the necessary information, leaving more time for higher value-added tasks. This is especially important for today's lean, digital, agile organizations that strive to get the optimal performance from their teams.
We answered all your enterprise search-related questions:
What is an enterprise search?
Enterprise search is a way of search that helps employees find the data from one or multiple databases in a single search query. The searched data can be, in any format, from anywhere inside the company -in databases, document management systems, e-mail servers, on paper and so on.
The relation between Enterprise Search and Knowledge Management
Knowledge management is the process where value is derived from knowledge by making it accessible to everyone within an organization.
For practical knowledge management, the combination of internal data and web-focused search tools has a crucial role. Enterprise search enables these features in a single search query. Therefore enterprise search can be a key driver for successful knowledge management.
Why is it important now?
Capturing data has never been easier. It is less costly than it was and most enterprises are capturing data as part of their operations. However, optimizing data is as important as capturing it because, in terms of work productivity, it needs to be easier and more accessible to find.
There are various studies that highlight the cost of knowledge search time for employees. Here are some examples:
SearchYourCloud's survey 

reveals

 that "It takes workers up to eight searches to find the right document and information, according to 80 percent of respondents."

McKinsey's

 study found that "The average interaction worker spends an estimated 28 percent of the workweek managing e-mail and nearly 20 percent looking for internal information or tracking down colleagues who can help with specific tasks.". That means an average employee spends nearly 1.8 hours every day for searching information.

IDC's "The cost of not finding the right information study" results are shown on the

graph

below

.
How does it work?
Enterprise search engines require data preparation. Once data is ready for the search engine, users input text queries and receive formatted results.
Content Awareness
Content awareness also called "content collection", is the process of connecting databases that the search can access.
Content Processing
Incoming contents from different databases have different formats such as XML, HTML, office document formats, or plain text. In this step of enterprise search, documents are converted to the plain text using document filters so they can be searched efficiently. The content processing phase also includes tokenization. For example, characters are converted to lower case to enable fast case-insensitive search .
Indexing
After the content is processed, documents are stored in an index. This index consists of all words, including information about ranking and frequency of the term.
Serving results to user queries
The search system compares the query to the saved index and returns matching results. The search returns entries that include what the user entered as a query and also returns similar results.
What are its use cases?
Enterprise search engines have some common use cases that increase the efficiency of research processes. We listed the five most common use cases for you:
Knowledge management: 

Applying enterprise search eases and improves the process of knowledge management within the organization. In other words, if the organization has many documents in archives, you better use a search engine to find the right document.

Contact Experts:

You don't need to know people's full names if you are looking for experts within the organization. You can filter according to attributes and experience to find experts.

Talent Search: 

Enterprise search engines can match candidates with job descriptions from the database of potential candidates.

Intranet Search: 

It helps intranet users locate the information they need from the organization's shared drives and databases.

Insight Engines: Insight engines are an evolved version of enterprise search since insight engines can leverage AI capabilities to search queries.
What is the difference between enterprise search and insight engine?
Enterprise search engines and insight engines serve the same purpose; to show the results of business users' queries. However, insight engines are more advanced platforms and they combine with data and machine learning algorithms to process content so that they can provide more relevant and personalized results for users. On the other hand, enterprise search converts content to plain text by using document filters.
What are enterprise search best practices?
Autocompletion of queries:

Autosuggest feature improves the user experience of your enterprise engine. Make sure you choose a tool that offers a list of possible completed words and phrases when users start typing.
Apply search analytics:

Collect query data of users so that you can gain insights about your search engine performance and the topics researched by your users.

Evaluate your team's talent:

Assess the capability of your business to implement a solution. If your team is a total stranger to search engine architecture, you can hire a third party integration specialist to help you implement the solution.
What is the maturity of your enterprise search engine?
With the advancements in technology, enterprise search applications got smarter. There are different levels of search capabilities of engines. Before investing in a new enterprise solution, you should assess your current search level and identify your requirements based on your business' goals.
Here is a model from Accenture to guide you to assess your enterprise's search engine maturity.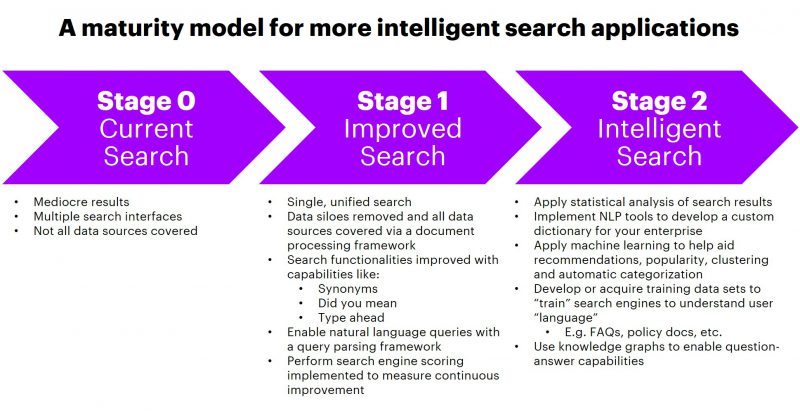 What are the major types of enterprise search solution providers?
Businesses can use both open source and proprietary solutions. Each enterprise search vendor has unique pros and cons. Here is the list of vendors divided into two groups:
Open Source Software
Apache Solr
Elasticsearch
Sphinx
Terrier
Xapian
Closed Source Software
Addsearch
Algolia
Commvault
Concept Searching Limited
Copernic
Coveo
Dassault Exalead
Dieselpoint
dtSearch Corp.
Funnelback
Hyland
IBM Watson Explorer
Lookeen
Lucidworks Fusion
MarkLogic
Micro Focus IDOL
Microsoft Bing
Mindbreeze
Oracle Secure Enterprise Search
SAP
SLI Systems
Swiftype Enterprise Search
TEXIS
Varonis DatAnswers
ZL Technologies
You can check out AI applications in marketing, sales, customer service, IT, data or analytics. And if you have questions about AI products:
How can we do better?
Your feedback is valuable. We will do our best to improve our work based on it.