As the competition among B2B markets increases, companies need to rely on data-driven decisions more. Companies have been collecting and performing actions on demographic and firmographic data and to gain a competitive edge. However, these two types may be insufficient to understand the target audience. Technographics is the complementary data type that will help B2B organizations segment prospects to deliver a better marketing campaign.
What is technographics?
Technographics are the analysis of the technologies used by a business and its ability and interest in buying new technology. It contains insights about potential customers' technology stack and how and when they use their technology.
Why is technographic data important for businesses?
Demographics and firmographics used to be the key driver of marketing strategies. These two data types are revealing the statistical characteristics of human populations and companies so that marketers can segment customers to identify markets. However, demographic and firmographic information of companies can be complemented by information on what technologies are used by companies. Therefore a new data type has been gaining popularity: Technographics.
Technographics is important because it compliments firmographics data to help companies better estimate prospects' willingness to purchase technology. This is acknowledged by sales and marketing teams as well. According to a survey conducted by ZoomInfo,
60% of sales professionals plan to invest in technographics in the upcoming year

81% of those who have access to technographic data say it's given them a more complete view of their customers and prospects.

81% of those who have access to technographic data say it helps them feel more prepared to talk to sales prospects.
Here is a video from ZoomInfo explaining how businesses can leverage from technographic data to empower sales activities:
How do organizations collect technographic data?
Phone or email surveying
Most B2B tech companies ask their prospective clients about the technologies that they use to gain a better understanding of their client's needs. These can happen over phone or email.
Scraping
Data scraping includes approaches to extract structured data from websites. However, with data scraping tools, organizations can only learn the specific types of software the website owner uses. They cannot get any info related to the company's hardware stack. 
Websites that showcase company tech stacks
Companies like Stackshare provide organizations a software discovery platform that lets them see all the best software tools and who's using them.
Data Marketplace
Though the above sources are the most common ways to collect this data, asking prospective customers is not a scalable approach and scraping requires significant effort as significant computing resources are necessary to scrape the web.
Data marketplaces are go-to places to purchase data when an organization is searching for external data to improve business functions by blending them with their enterprise data. This method is more efficient and accurate than other options because data is optimized for the use of external organizations, so it tends to be clean and come with extensive metadata to enable data processing.
For example, companies that have expertise in scraping this data like Datanyze and StackShare offer this data to customers.
What are its use cases?
Account-Based Marketing (ABM)
Technographic data is a key driver of the account-based marketing approach. With the help of technographics, marketers can identify and score accounts. Technographic scoring helps the sales team prioritize accounts based on the technologies they use. 
For example, a company that does not have a CRM system is more likely to purchase one than a company that has been using and customizing its CRM system for years. Integrability of technologies company uses is another factor that impacts technographic score as well. If your product is integrable with Salesforce, companies that implemented Salesforce CRM become your potential customer.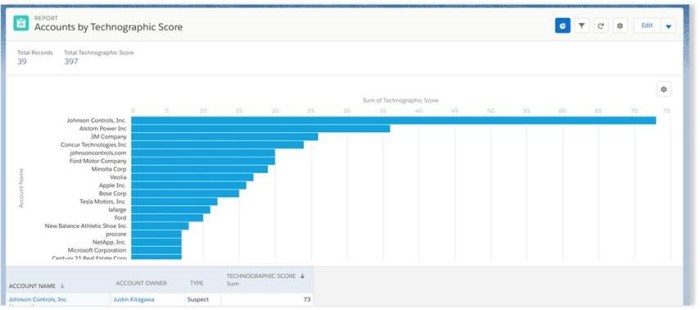 Personalized Campaigns
With the analysis of technographics data, marketers can generate insights about the account and launch relevant campaigns to specific accounts. Knowing the technology profile of accounts allows businesses to increase engagement and conversion rates.
Technology Intelligence
Technology Intelligence(TI)is an activity that helps businesses predict technological opportunities and threats that could affect their business's future growth and survival. Technographic data enable organizations to identify accounts that had not previously been considered as part of the total addressable market (TAM) so that companies can expand the account list. Combining the insights from technographics and other data models allow organizations to have a deeper understanding of their competitors' and clients' technology-use behavior. 
What are the benefits of technographic data?
Better understand accounts:

 Leveraging technographics enables sales reps to have a better and more educated conversation with potential customers because reps knew what technologies are required for them.

Improve conversions: 

According to a study, 

63%

 of a sales rep's time is spent on work that doesn't generate revenue. You are better targetting accounts and your sales team know insights about prospects. This results in a higher conversion rate.

Improve customer retention: 

As 

competition across industries increases

, retaining existing customers is important for survival. Organizations know how and why customers use their technology. Businesses can identify at-risk accounts with the insights gathered from technographic data so that they can either drive product development or target at-risk accounts in their competitors' customer base.
Feel free to check our other cool articles about data and analytics:
First Party Data in 2020: The best data source of marketing
Infonomics in 2020: In-Depth guide to data monetization
Data as a Service in 2020: in-Depth Guide
Account Based Marketing in 2020: Increase B2B conversions
If you still have questions about technographic data or any other AI solution, we would like to help:
How can we do better?
Your feedback is valuable. We will do our best to improve our work based on it.