The increasing volume of clients and competition is forcing legal departments to provide fast and affordable services. Creating, managing, and reviewing legal documents is labor-intensive. Today's businesses need to reduce these costs and accelerate document-related processes. Legal document automation handles document-based legal tasks for legal departments and enables them to spend more time on more value-adding activities. It also accelerates legal document generation processes significantly and reduces human-made errors.
How does it work?
Most common legal document automation solutions have a simple process. As legal departments mostly focus on automated legal document generation, the main focus is to save time drafting documents. Thus, the common approach is to collect customer information by sending out a form and automatically putting the data in that form into legal documents. A more modern approach is to retire forms and use data extraction solutions to capture data from existing documents or other data sources, however this approach is not commonly used yet.
Here is how legal document automation works step by step:
Getting best practice legal text to minimize client risk
Solutions like Lawgood provide legal contract text vetted by lawyers that covers common areas to minimize research to draft agreements.
Setting up legal document templates
The legal department first creates templates for different types of documents. These templates will include where the client information will be embedded in the document.

Some documents might consist of separate statements based on client information. For example, there can be different lines for clients from France and the ones from Belgium. Legal departments should also set these possibilities before starting automated document generation.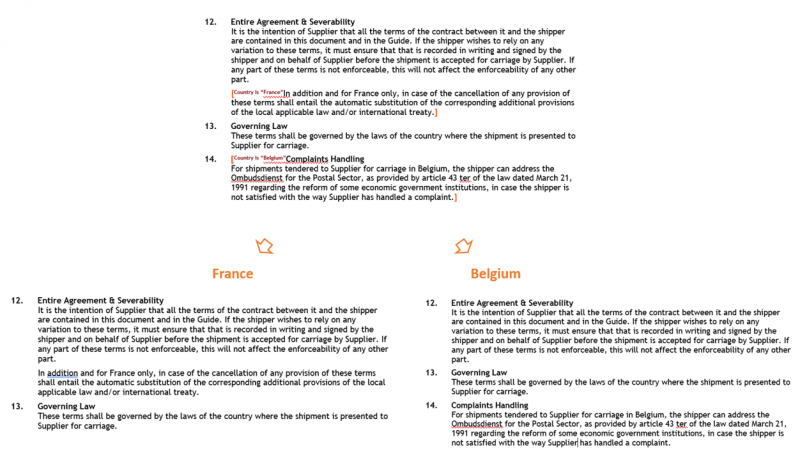 Similarly, client information can be used to calculate legal rates and charges, which will be added to the pre-defined part of the legal document.
Collecting data for document generation
When a new client comes, the legal department sends out a form to collect all the relevant information needed to generate legal contracts.

The data collected will automatically be embedded in the legal document. As the data is kept in the database, it can also be used to create different kinds of documents.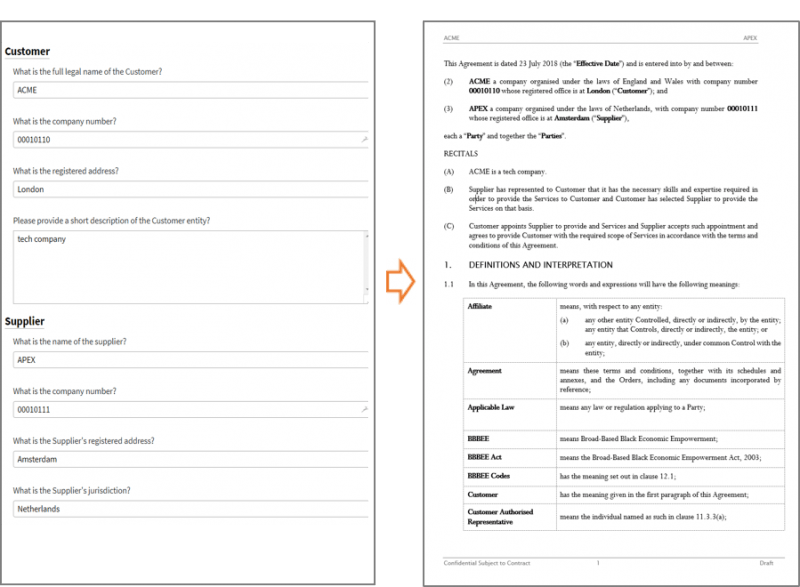 Checking for errors / parts to improve
As the client information is filled directly by the customer, document automation tools are used to identify misspellings and missing information. They can also scan through the other legal documents of the same client to prevent any contradictions.

Document automation tools can also look for any errors in the template and offer recommendations in the statement for more optimized content.
To learn more about how document automation works, feel free to read the related section of our in-depth document automation guide. 
Why is it relevant now?
Legal departments traditionally use existing templates while generating documents for their clients. For that, they need to collect relevant information from clients like legal name, address, company number, and put that information into legal contracts manually, which is a time-consuming and error-prone task.
Automation technologies can accelerate these processes and prevent any missing or erroneous client information while preparing legal documents. As the process does not require human intervention, it can save around 70% of document generation time for legal departments. 
Today, legal document automation solutions become more critical due to the following reasons:
Increasing number of transactions leads to the increasing volume of documents
According to a recent AIIM study, the size of incoming business information will increase four times from 2019 to 2021. The growth of the incoming business will also increase the need for legal services, which would also increase the volume of legal documents generated. While creating these documents manually was already a challenge, creating more will be a harder one. This is likely to further motivate legal departments to implement automated solutions.
Staff need to focus on higher value-adding activities
Legal document automation will reduce a significant amount of time for legal departments and help employees work on higher value-adding activities instead of manually adding customer information to legal document templates.
The increasing importance of economic stability
Mistakes in legal documents can cause high amounts of unexpected costs and put companies in difficult positions. Considering today's unstable economic environment, companies need to be more careful, especially in legal activities, to avoid issues due lack of compliance.
How is the interest in legal document automation?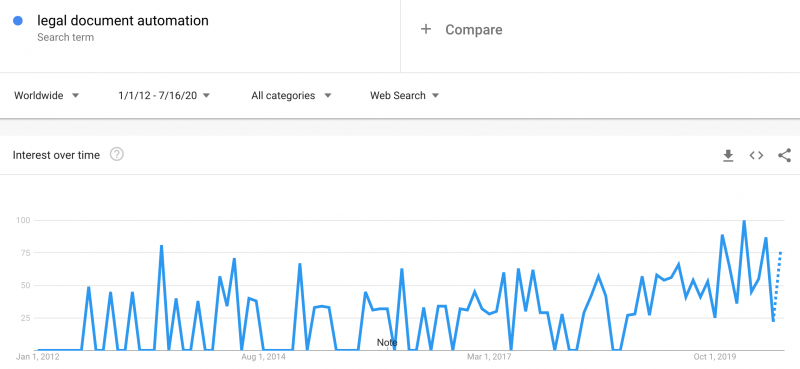 The interest in legal document automation was fluctuating until around 2018, however we observe an increase in interest. This is not surprising since companies are showing increased interest in automation solutions in the past few years.
What are the different types of legal documents to automate?
Different kinds of legal documents can be generated with legal document automation tools. Once the client information is collected, legal departments can automatically create the following documents for the same client instantly:
Bills of Sale

Operating Agreements

Business Contracts

Business Proposals

Financial Declarations

Loan Agreements

Mortgages

Regulatory Agreements

Non-Disclosure Agreements

Wills and Trusts
What are the main benefits of legal document automation?
The main benefits include:
Faster processes:

 Document automation significantly speeds up creating new legal documents and provides faster services while interacting with clients.

Reduced errors:

 While manual document creation is prone to errors, legal document automation enters client information without mistakes and can detect contradictions based on previous deal documents with the client.

Optimized contracts:

Template agreements can be too wordy, and specific statements added later might cause documents to be longer. Document automation tools can optimize the content and continue to keep the focus on the key issues to offer secure but shorter, simpler contracts.

Improved customer satisfaction:

Handling legal documents faster and with fewer errors would positively impact customer satisfaction.
Which are leading legal document automation companies?
Many document processing vendors can provide legal document automation solutions. However, some of them are specialized under processing legal documents, so you might want to check them out if you are planning to use this technology for legal purposes. Here is a list of those vendors that provide legal document automation services:
Knackly

LawboxPRO

LawLift

Leap

LegalUp

Radiant Law
If you want to read more about document automation, these articles can also interest you:
If you have questions on legal document automation tools, feel free to contact us:
Let us find the right vendor for your business
How can we do better?
Your feedback is valuable. We will do our best to improve our work based on it.