Level of interest in RPA before the financial crisis triggered by coronavirus was quite robust. We cited industry analysts, participants as well as public sources showing that RPA has had stronger growth than most other software solutions, creating a >$1 billion market.
Is RPA just a hype since it is a quick fix? We and most industry analysts expect RPA growth to continue albeit at a slower pace in the future.
What is the level of interest in RPA?
Even though the crisis initially slowed down IT spending as companies aimed to preserve cash in an uncertain economic environment, digitization and automation initiatives, which result in cost savings, have remained popular according to our interactions with RPA software companies.
According to industry analysts
According to Gartner, RPA is the fastest-growing segment of the global enterprise software market and estimates that 85% of large and very large organizations will deploy some form of RPA. They estimate that RPA grew 63% in 2018 to $846 million with all top 3 vendors growing >40%.
Forrester shows the growth of the RPA market in the image below. While the total RPA market revenue was $125 million in 2016, the total valuation of the top 3 RPA firms became $10.8 billion, with total revenue of $1 billion in 2019, and the total RPA revenue is expected to increase to $1.5 billion in 2020.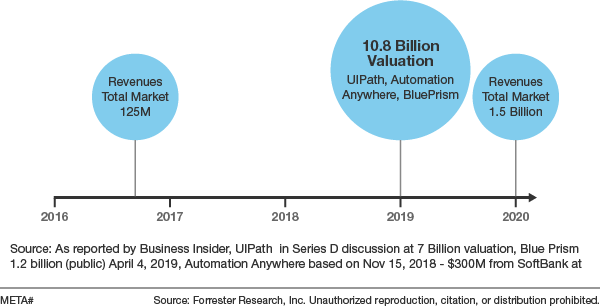 According to Google queries
As you can see in the graph at the top of post, interest in RPA has grown ~10x in the past 1.5 years. Google users searching for the keyword "RPA" grew from insignificant numbers by the end of 2015 to ~27,000 per month today in the US according to keywordtool.io.
According to industry participants
A 2020 survey by Deloitte states that 53% of their respondents started to implement some form of RPA, and this percentage will become 72% by 2022.
For more statistics on RPA market size forecasts and business adoption, we recommend you to read our article where we compiled 44 RPA statistics from reputable sources.
Fortune 500 CEOs also quickly got excited about RPA. John Cryan, CEO of Deutsche Bank said back in September 2017:
In our banks we have people behaving like robots doing mechanical things, tomorrow we're going to have robots behaving like people
With so much interest in the topic, consulting companies like BCG, McKinsey and Accenture have integrated RPA into their digitization solutions. Here's an Accenture video that outlines on a high level, how RPA works.
https://www.youtube.com/watch?v=fIw7BwIoGus
Did we reach peak RPA?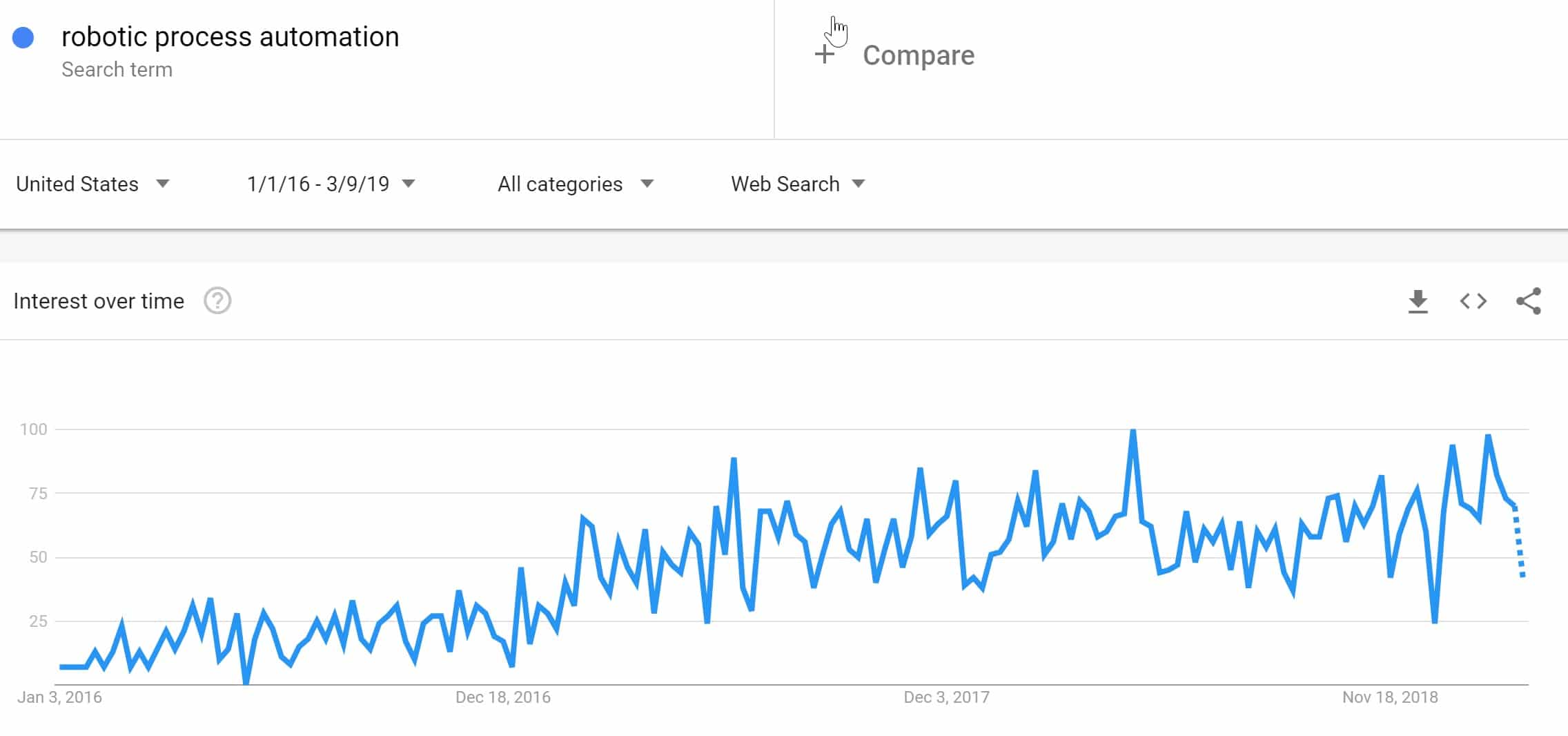 While we saw an increasing trend in RPA popularity between 2016 and 2017, there was not much increase during 2017-18. However, this was not an end to RPA's growth. As you can see in the featured image at the top of the article, we observe that RPA is still growing in popularity as of 2020. We believe we have not reached peak RPA yet.
After April 2019, we see a considerable increase in the popularity of RPA. We don't know the exact reason but our hypotheses include:
Expansion of RPA use cases in a wider range of business processes

Expanding RPA deployments within existing clients from pilot scale to more significant deployments

RPA vendors' work with industry analysts focusing on hyperautomation. RPA is expected to play a large role as companies seek to further automate their processes

Launch of cheaper and open source RPA solutions attracting interest from SMEs and developers.
In the spring of 2020, interest in RPA has decreased. Coronavirus outbreak has initially resulted in reduced interest in all topics as people learned about the novel virus. We expect RPA adoption to continue as cheaper and more capable RPA solutions become more widely available in both enterprises and SMEs.
UiPath, the market leader in terms of funding, raised $225M at a post-money valuation of $10.2 billion in July 2020 confirming continued investor interest in the topic. They cited COVID-19 as one of the accelerators of interest in RPA. However, most digital transformation-related companies say the same thing post-COVID. We can't verify how true this is but we will know as we continue to monitor interest in RPA.
Will RPA continue growing?
RPA is expected to remain the fastest growing enterprise tech. RPA has exhibited strong growth in the past and most industry analysts expect the global RPA market revenues to continue growing at a strong pace:
Gartner:

$1.3bn by 2019
$0.85bn in 2018

Forrester:
When will RPA become obsolete?
Though there are great tools for financial modelling, most acquisitions worth billions have models built in Microsoft Excel. This is because Excel is flexible, analysts are familiar with it and modelling businesses requires significant flexibility. Even those specialized solutions will limit RPA's scope, we expect it to be resilient.
However, similarly flexible but even easier to use tools could replace RPA. APIs and cloud migration could trigger growth of no code automation tools replace RPA. For more, feel free to read our article on whether RPA will be obsolete.
To find your RPA vendor, feel free to check our transparent, data driven, sortable, filterable list of RPA vendors.
For more info:
If need help in selecting RPA vendors, we can help:
How can we do better?
Your feedback is valuable. We will do our best to improve our work based on it.