As you can see above, if setting up analytics is not more costly than reduced uptime, then predictive analytics is the solution.
Let's look at why. Most executives are not clear on how predictive is different than preventive maintenance they have been conducting for years. Both approaches aim to prevent unexpected breakdowns, increase uptime and useful life of machines. However, they have different cost structures and they require different capabilities from the organization.
Let's start with the definitions to clarify misunderstandings:
Predictive maintenance
Maintenance is the required effort and cost to optimize machine useful life and performance. Following predictive maintenance approach requires real time monitoring of machines and robots. Maintenance is performed when issues are detected that are expected to impact performance in the future.
P-F interval is generally used to explain how maintenance works. As you can see below, event causing failure happens at a time difficult to estimate based on the machine's age, environment, parameters and inputs. However, after this event happens, several diagnostic techniques to monitor machine condition are available in predictive maintenance solutions that can uncover this event. Such techniques include:
Oil analysis
Vibration analysis
Acoustic analysis
Thermography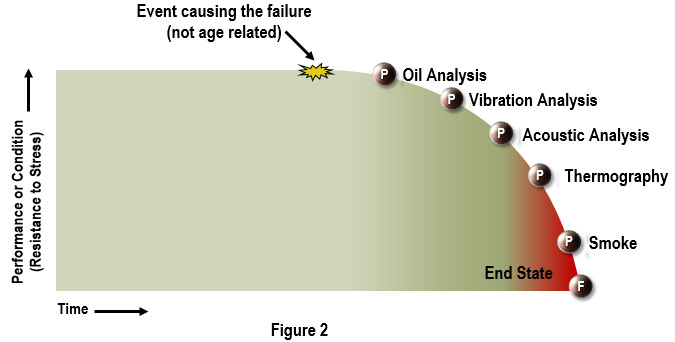 Based on how different machines take part in production, some failed states may not lead to any production issues while other failed states can have significant financial results. For example, Fero Labs', an industrial analytics vendor, solution considers states of multiple machines and their role in production to conduct predictive maintenance. For example, predictive maintenance to prevent failures with limited financial impact can be delayed to optimize staffing and production schedule. However, predictive maintenance of critical machines would need to be performed immediately.
Pros
Improves up-time
Prolongs hardware useful life
Improves product quality and reduces waste as machines are utilized in better conditions
Improves worker and environmental safety by reducing catastrophic failures
Reduces maintenance costs over preventive maintenance by 8-12% according to Department of Energy's estimates. Maintenance will

only be completed when predicted
be planned preventing inefficiencies due urgent resource allocation in case of machine failure
be focused on parts with possible malfunctions further reducing maintenance effort.
Cons
In some cases, requires installing sensors to monitor existing machinery
Requires setting up analytics capabilities which can be expensive for some businesses
Staff training needed to change maintenance process
In short, predictive makes sense when the investment for analytics engine is worth the improvement in up time and cost reduction in maintenance.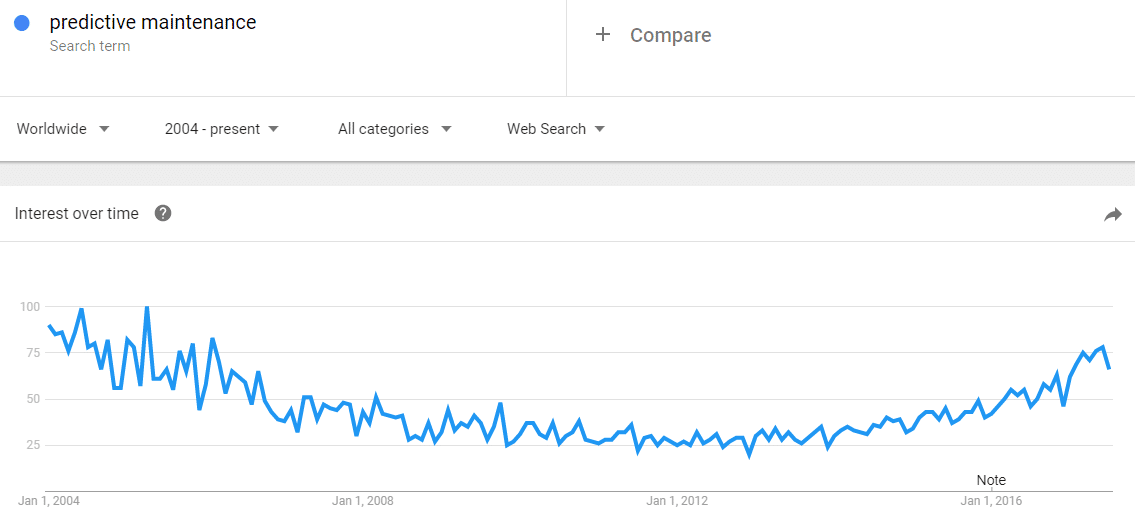 As you can see below from Google trends, predictive maintenance is a bit ahead in the hype cycle, having passed its peak buzz levels around 2004. Now is the time for adoption of predictive maintenance to increase. Check out our extensive article for more on predictive maintenance such as its quantitative benefits.
Preventive maintenance
Preventative maintenance or preventive maintenance is also called planned maintenance and requires performing maintenance at intervals specified by the manufacturer or maintenance personnel. Most of the time preventive maintenance follows a regular schedule to make it easy to track. However, the same machine operating in different conditions requires quite a different maintenance schedule and setting the right maintenance schedule is quite difficult.
For example, I was working with a network management company maintaining base stations for the mobile network in the US. Even though, there was a variety of atmospheric conditions within their defined regions like California, company stuck to the same maintenance schedule for all stations in a region. This practice leads to either more or less than the required maintenance.
Therefore, preventive maintenance inevitably leads to one of two scenarios compared to predictive maintenance:
Over-maintenance: Maintenance costs will be high due to unnecessary maintenance. Sadly, maintenance is not only costly, also requires machines to be stopped and restarted which is an unnecessary strain on the machine. Further unnecessary maintenance can lead to unintended damage on the machine.
Under-maintenance: Under-maintained equipment will likely lead to longer downtime and unexpected failures. Failures can be disruptive especially if spare parts are required to fix the machine. Overstocking of spares increase inventory costs while not having the necessary spares can mean days of down time.
Pros
Reduces maintenance costs over reactive maintenance by 12-18% according to Department of Energy's estimates. Fewer failures will lead to fewer expenses like spare parts.
Cons
Catastrophic failures are possible.
Labor intensive process
Preventive maintenance can be a good solution when the investment for analytics engine is not worth the improvement in up time.
Condition based maintenance
In short, poor man's maintenance! Also called corrective or reactive maintenance, issues are fixed after they arise in this model. Makes sense for hardware for which loss of uptime is not that costly.
There are 2 types of corrective maintenance:
Immediate corrective maintenance: Maintenance starts immediately after a malfunction is detected.
Deferred corrective maintenance: Maintenance work is delayed in line with maintenance rules
Pros
Requires minimal staffing
Cons
Catastrophic failures are likely
Increased maintenance cost as failures create need for new spare parts and extensive repair
Reduced downtime
The appropriate maintenance for your business
Given the definitions, advantages of predictive maintenance should be clear. Especially in an industrial setting with costly machines with limited redundancy, predictive maintenance makes sense. Reducing down time for a robot park can save a lot more than the cost of setting up an analytics system.
However, predictive is not the ideal solution for any system. According to Department of Energy's report, As of 2010 >85% of US businesses were relying on reactive or preventive maintenance.
To hear from those who benefit from installing predictive maintenance systems, please take a look at our blog post on the topic explaining how to implement predictive maintenance. If you are ready to work with preventive maintenance companies,
How can we do better?
Your feedback is valuable. We will do our best to improve our work based on it.