We have identified about a dozen artificial intelligence use cases in customer service and structured these use cases around typical customer service activities. Our framework is by no means comprehensive but it is ever improving so please let us know if you have any comments and suggestions.
Primary customer service activities and AI use cases in these activities are listed below. You can explore more on each topic by clicking its link which will take you to a detailed guide with references:
1- Identify customer issues with social listening and ticketing solutions
Identifying issues wherever they rise is the first step to resolving them. Social listening and ticketing vendors help you to leverage Natural Language Processing and machine vision to identify customers to contact and respond to them automatically or assign them to relevant agents increasing customer satisfaction.
2- Authenticate customers with biometrics
Seamlessly but securely authenticate your customers. Voice authentication allows you to authenticate customers without passwords leveraging biometry to improve customer satisfaction and reduce issues related to forgotten passwords.
Assign agents to customers
Ensure that the agent you assign to a customer has the expertise and style which matches the needs of that customer.
3- Call classification
Call classification systems leverage Natural Language Processing to understand what customer is trying to achieve enabling your agents to focus on higher value added activities and enable you to better match agents and customers
Intelligent call routing systems route calls to most capable agent available. Intelligent routing systems incorporate data from all customer interactions optimizing customer satisfaction
Automate agent activity
Save agents time while increasing customer satisfaction
5- Call intent discovery
Leverage Natural Langugage Processing and machine learning to estimate and manage customer's intent (e.g. churn) to improve customer satisfaction and business metrics
6- Customer service response suggestions
Bots will listen in on agents' calls suggesting best practice answers to improve customer satisfaction and standardize customer experience. Digital genius nicely explains this with an example: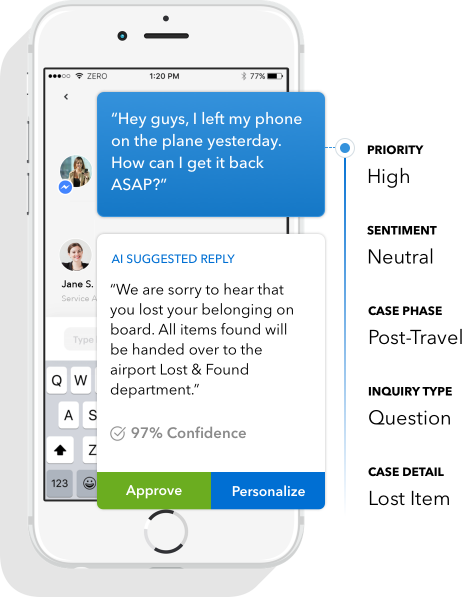 Let 24/7 functioning, intelligent, self improving chat bots to handle most queries and transfer customers to live agents when needed. Reduce customer service costs and increase customer satisfaction. Dom the pizza bot of Dominos is an outspoken example: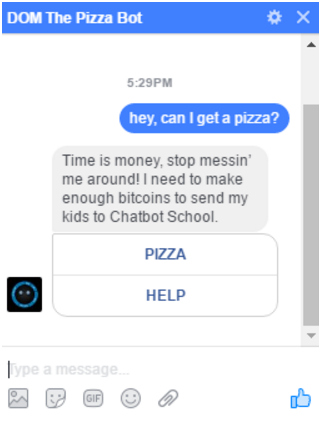 Not paying attention to your users' experience with chatbots can have screenshot worthy results like this one. Testing and analytics solutions enable you to continously improve your bot.
https://twitter.com/geraldmellor/status/712880710328139776/photo/1
For more on chatbot testing, check out our comprehensive guide.
Customer service analytics
Analyze all customer service activities so you know how to save costs and improve service quality
As GE's Peter Drucker is quoted saying "If You Can't Measure It, You Can't Improve It". It is certainly true for chatbots that produce rich conversational data.
We have a detailed guide covering top chatbot metrics if you want to know more.
10- Call analytics
Advanced analytics on call data to uncover insights to improve customer satisfaction and increase efficiency
Leverage Natural Langugage Processing to analyze text fields in surveys and reviews to uncover insights to improve customer satisfaction and increase efficiency
Now that you know about AI applications in customer service, you could examine AI applications marketing, sales, , IT, data or analytics. And if you have a business problem that can be solved with AI:
How can we do better?
Your feedback is valuable. We will do our best to improve our work based on it.