ECM systems allow companies to store, manage and analyze the content they generate. We have previously covered what ECM is and how AI impacts it, uses cases of AI-powered ECM and benefits of AI in ECM in our previous articles.
To understand ECM with quantitative stats, check out stats on:
Market Size
ECM is still a fast growing market with a CAGR of 16% according to Statista, where Forrester forecasts that by the end of 2020 ECM will be a global market worth $11 billion. 
Forrester research shows that, there are 14 ECM products with >$20 million in revenue with revenue leaders being OpenText, Microsoft, Hyland and Alfresco Software.
Why does ECM matter?
Employees often spend too much time on searching for information instead of working on a value adding task. An ECM system can reduce the time spent on searching for information and increase the collaboration among the employees.
Search related stats
Document processing stats
ECM adoption
AIIM survey found that:

24% of the largest companies that participated in the survey didn't have ECM implemented.
45% of companies with 5000+ employees had at least one content management system at departmental level.
20% of medium-sized companies had an enterprise-wide ECM system or a single sign-on/multiple-repository system.
Companies with <500 employees tend to use point solutions for imaging and archive twice as much as medium sized (500-5000 employees) and large companies (5000+ employees).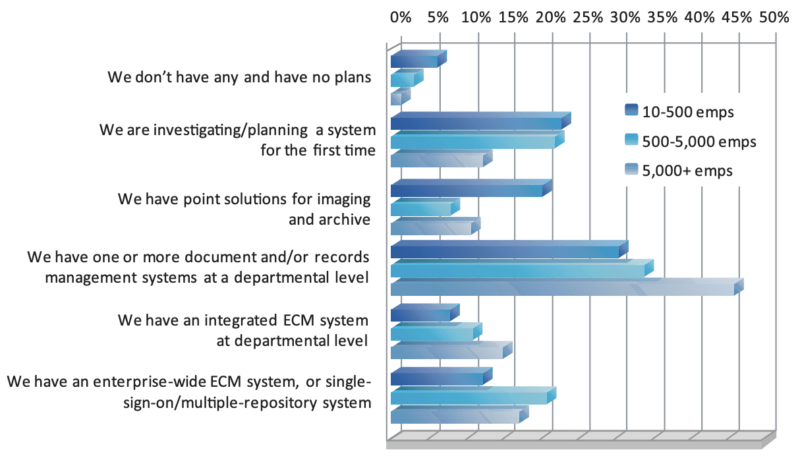 ECM Benefits/Results of implementation
Financial benefits
ROI of ECM investments
ROI figures range from 38% to  over 600% for improved access to information, depending on the new ECM system is an upgrade over an existing one or is an entirely new system replacing previously manual processes. (IDC)
ARC's financial analysis on the ECM implementation project shows a net present value of $185k over 5 years and an internal rate of return of 15%.
IDC study shows that improving search and retrieval systems of a Fortune 500 firm's 4,000 engineers recovered the investment within a month and contributed to a $2 million monthly productivity gain afterwards.
Cost savings & productivity gains
Performance benefits
Reduced processing time
Invoice 

process 

workflow 

time 

for 

Greenbank RSL

 

decreased 

by 

84% after implementing ECM

.

By 

implementing 

an 

ECM 

tool, 

a 

global 

investment 

bank 

has 

reduced 

process 

time 

by 

up 

to 

60%

 

per 

contract. (Mphasis)

According to IHS Markit, ECM can reduce time costs significantly, which results in efficiency gains:

20% to 30% reduction in engineering time spent to locate relevant technical knowledge, collaborate with colleagues and manage information.
50% to 75% less time is spent by employees to review and understand relevant technical knowledge.
20% to 50% reduction in time spent on analysis, problem solving, and decision making.
50% reduction in time spent re-creating work already done elsewhere in the organization. (75% of participants admitted to waste time recreating content due to not being able to find the existing version in Nuxeo's survey)
Employee benefits
In terms of timescales and project costs, an environment where collaboration is supplied by systems like ECM can improve project delivery by 23% on average . (AIIM)
According to Forrester, 75% of the workforce is expected to be formed up of millenials by the end of 2020, where systems like ECM is expected to increase employee retention as millenials are used to easy-to-use tech systems and have less tolerance for lack of advanced search features
For more detailed information about ECM vendors, please check our ECM vendor selection guide or contact us:
How can we do better?
Your feedback is valuable. We will do our best to improve our work based on it.