Enterprise content management (ECM) systems help companies utilize structured and unstructured data to improve business outcomes. In line with their growing scope, these systems are also called Content Services Platforms (CSPs). While they relied on earlier AI approaches which are no longer called AI (e.g. OCR), most ECM systems still rely on rules based approaches to extract, classify and enrich data. With advances in AI, machine learning and especially deep learning, companies can complete typical ECM or CSP applications in a more automated manner with higher levels of compliance. While new vendors are emerging to provide these capabilities, traditional ECM companies are building AI capabilities to catch up.
What is ECM?
ECM helps enterprises create business value out of their content and automate processes that rely on content.
Other industry analysts have more wordy definitions:
The Association for Information and Image Management (AIIM) defines Enterprise Content Management (ECM) as the strategies, methods, and tools used to capture, manage, store, preserve, and deliver content and documents related to organizational processes. ECM ensures that documents and other business content are organized, categorized, meaningful, and easily explorable. ECM is in charge of capturing content streams across distinct channels such as text, video, audio, database, etc. Almost every file generated by the company (Word documents, Excel spreadsheets, Pdf files, etc.) is stored by ECM so that the system can deliver them when necessary.
ECM is an old concept and to reflect its growing scope, industry analysts have been creating additional terms to define the industry:
ECM is referred to as Content Services Platform (CSP) by Gartner. Gartner defines CSP as an integrated platform that provides content-focused services, repositories, APIs, solutions, and business processing tools to support digital business and transformation.
The Association for Information and Image Management (AIIM) claims that companies should embrace new information management strategies that extend beyond traditional ECM and they call this more recent approach Intelligent Information Management (IIM).
What are the similarities and differences between content management and knowledge management?
Knowledge management searches for, captures, updates, and maintains relevant information all in a single platform. Anyone can create or update information in real-time, start a conversation and collaborate with peers and employees from other departments. Knowledge management can be described as a subset of content management that specializes in knowledge distribution. Some vendors have implemented AI solutions for knowledge management. The Maana Knowledge Platform is one of the knowledge management tools that applies AI-integrated knowledge management.
What is an AI integrated ECM?
AI takes ECM a step further by being able to "read" the information on a document. An AI-powered ECM system can categorize, classify, analyze content and deliver information in various different forms.
Which AI technologies enable ECM systems?
Machine Learning
For example, an AI integrated ECM can be trained to classify documents by using several machine learning algorithms such as tree-based algorithms (decision trees, random forests), gradient boosting algorithms, neural networks, and/or clustering algorithms. An AI-Powered ECM can learn to identify document types based on content, classify the document, and decide the appropriate action.
An AI-powered ECM can drive insights from the data by employing predictive analytics tools enabled by machine learning such as time-series analysis, regression analysis, other forecasting tools etc.
Image Recognition
With image recognition technology, pictures can be auto-tagged at upload, and ECM can capture text within those pictures without human intervention.
Voice recognition and transcription
As of May 2019, more than 500 hours of video were uploaded to YouTube every minute, which equates to approximately 30,000 hours of newly uploaded content per hour. That's why YouTube is expected to have more than 1 billion gigabytes (1 exabyte) of data on its servers!
With the increasing usage of video in both B2B and B2C communication, voice recognition and transcription technologies play a larger role in ECMs as information is extracted from audio and video files.
Natural language processing (NLP) and natural language understanding (NLU)
AI-powered ECM can understand data and context on a deeper, more semantic level and enable data processing. It can understand the language used in emails and other documents. Consequently, it can establish relationships between the context of documents and makes the information easier to retrieve when it is required.
What are AI use cases in ECM?
AI use cases in ECM include document processing, unstructured data processing, content management, improved search and collaboration. For a more detailed review of AI applications in ECM please explore our article about AI use cases in ECM.
What are the benefits of ECM?
ECMs benefits include cost savings, faster processes, improved decision making, increased compliance and collaboration. Feel free to read more about ECM benefits from our dedicated article on the topic.
How to get started with ECM?
According to IBM, there are 3 key steps that companies should follow in order to implement a successful ECM system:
Identify the role content plays in your business:
An assessment of the enterprise is the first step towards a successful ECM system adoption. The company should find answers to questions such as:
Where are paper-based processes creating bottlenecks?
Where is business content located in the enterprise: are they in file shares, cloud repositories, or in already implemented ECM systems?
What are the governance, compliance, and document retention strategies of the firm?

Select an initial project:
ECM solutions are modular and often start with an application for a line of business. Stakeholders provide input, create a vision, and concrete solution objectives. The ECM vendor then deploys the solution after rigorous testing and user training.
Extend ECM across the enterprise:
It is possible to reuse certain components and processes, once the initial project is completed, which makes subsequent projects less costly and easier to deploy. To leverage their investment in people, content, and technology, many organizations build a shared-services strategy.
Which business functions use ECM?
Sales: Enterprises use ECM to effectively store customer information and drive insights from this information to promote sales.
Marketing: Content created for different advertisement campaigns are all stored in the ECM system to be delivered when necessary for a similar project.
Accounting and Finance: ECM automates the processing documents such as invoices. Elimination of such documents accelerates processes between departments.
Human Resources: ECM speeds up recruiting processes and allows HR employees to compile performance evaluation reports of existing employees within minutes.
Contract Management: ECM allows digitization of contracts, which provides associates some benefits such as getting alerts before contract expiry dates.
Supply Chain: ECM helps supply chain associates to make better forecasts as stock data, sales data, financial data, and data provided by the suppliers are all retrieved from the same ECM system.
What are the challenges of ECM?
Some challenging facts about ECM implementation can be listed:
Gartner estimates that 80% of enterprise data is unstructured and 70% of enterprise data is in free-form text (e.g. emails, written documents, and comments).
Nuxeo's recent survey shows that almost 75% of participants waste time recreating content due to not being able to find the existing version.
50% of the participants admitted using their own systems to store content, because the content they need is usually hard to find, or they find intracompany tools difficult to use.
Insufficient training, testing issues, and communication challenges are other critical challenges that a company should overcome to implement an ECM system successfully.
What are the companies in the ECM ecosystem?
Most traditional industry analysts cover the ECM market. For example, Forrester forecasts that ECM will be a global market worth $11 billion by the end of 2020.
According to Forrester, there are 14 ECM products with >$20 million in revenue and a globally availability as shown below. Don't get distracted by their complex graph, they don't share the underlying data or the metrics they rely on. In short, you can assume that products closer to top right can afford to have larger marketing budgets: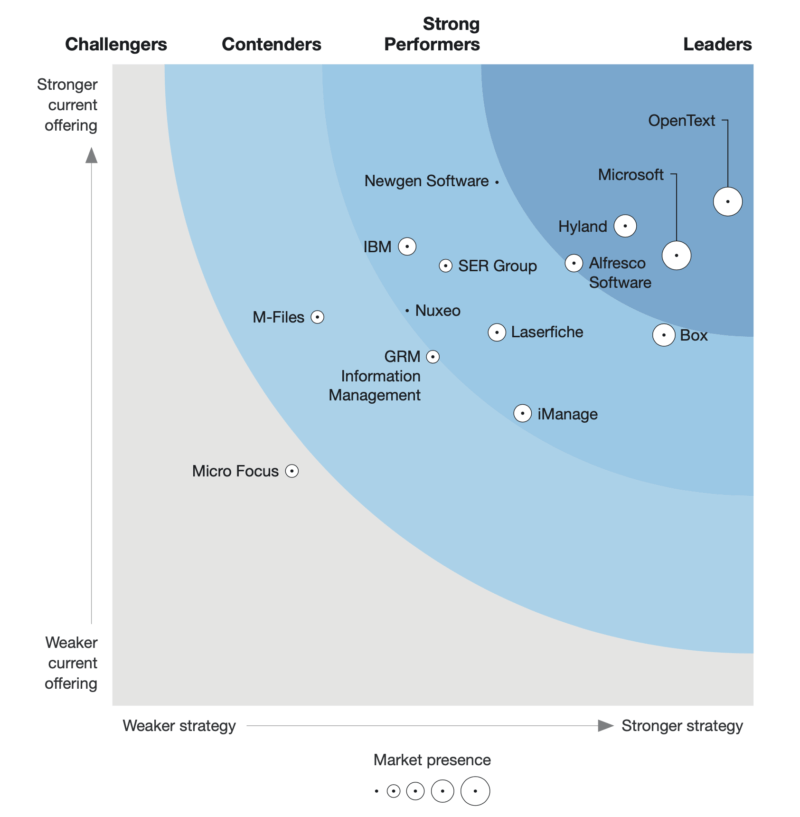 For more detailed information about ECM vendors, please check our ECM vendor selection guide or contact us:
How can we do better?
Your feedback is valuable. We will do our best to improve our work based on it.