Are you creating and posting volumes of content but not getting results that you would like to see? Content intelligence enables organizations to increase the effectiveness of their content by analyzing texts, images and videos and revealing insights with artificial intelligence.
Thanks to content intelligence, businesses can create the right content for the right audience and increase traffic, customer engagement and sales.
What is Content Intelligence?
Content intelligence is a content marketing approach that uses AI-powered systems and software to transform content data and enterprise data into actionable insights to establish an effective content strategy. With content intelligence, organizations can create high value, data-driven, targeted and conversion-focused content.
Content intelligence contains different practices such as content audits, buyer personas, channel optimization, website analytics, social listening, and competitive intelligence to increase the quality of content.
In the below video, Ceralytics Chief Strategist Brandon Andersen explains his definition of Content Intelligence and how savvy marketers can use insights to target opportunities to beat their competition on organic searches.
Why is it important now?
Due to companies focus on digital transformation and customers' demands, digital interaction between organizations and customers is increasing. Content that organizations create can form the first impression of customers about the business. However, impact and quantity are not always correlated and organizations need to be strategic about their content to stand out from the noise. According to studies, every minute:
Facebook users like posts 4,166,667 times,
Twitter users tweet 347,222 times,
 Youtube users upload 300 hours of new videos
In other words, the content volume is increasing every day but results from each content are underwhelming. Therefore organizations' focus should be increasing the impact of the content using data and analytics rather than focusing on its quantity.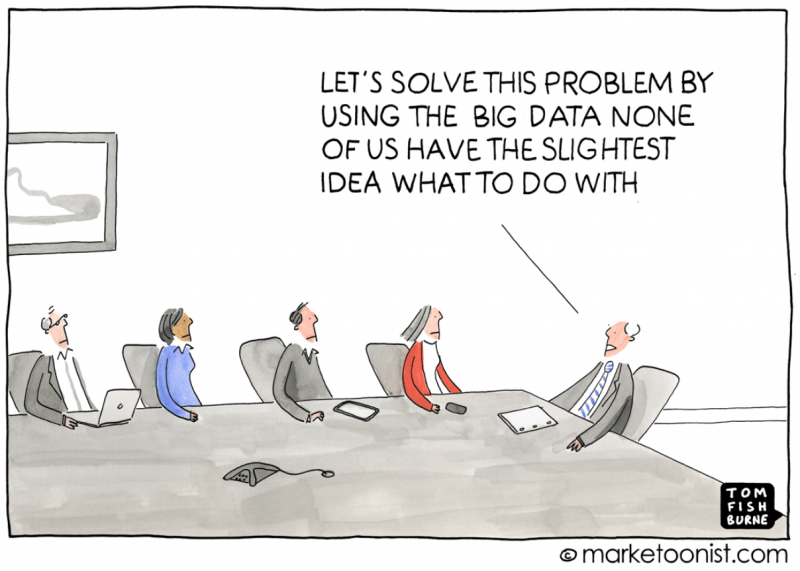 How does it work?
To help organizations improve their marketing efforts, content intelligence tools leverage different technologies such as
There are three main steps to content intelligence:
Data collection: Businesses can leverage tools that provide data related to content and customer behavior. Thanks to data marketplaces and web analytics tools, organizations can collect needed data for their content strategy. Such data is also offered by content intelligence companies. Relevant data include:

Competition and the areas where your company's content is successful
Content and trends on social networks regarding your  company's areas of focus
 Performance of your company's content
Data analysis: An effective content analysis starts with asking the right questions such as "which content pieces have generated the highest ROI?" etc.. Though AI-powered analytics tools can automate the analysis process, humans should define priorities for analysis. Example analysis areas include:

Understanding customers: With machine learning techniques, businesses can parse customer information to identify  the right content for their audience.
Channel analysis: Channel analysis provides insights into where certain topics perform best so that businesses can target those channels for specific topics.
Competitor analysis: Organizations can track what their competitors are doing across owned, earned, and paid media. For example, the total search volume of a keyword and total clicks competitors get are good indicators to predict how much ROI will your content could generate in a specific area.

Insight generation: This step involves identifying content effectiveness so that businesses can understand which areas to generate content for and how to generate effective content.

Content suggestions: Content intelligence can provide data-driven suggestions for what content to share, when to share new content or update an existing one. For example, content intelligence tool Amazon Alexa can provide you following capabilities:

New content suggestion: This tool can provide you easy-to-rank keywords, keywords driving traffic to competitors but not to this site, and keywords that show high purchase intent. With this knowledge, business writers can have an idea of what to write.
Existing content updates: Content intelligence utilizes businesses' existing content inventory to make it as effective as possible. Alexa tool provides you keywords already driving some traffic to your site but can be optimized.

Content generation: Content intelligence can help businesses how to write content and by using NLP and NLG technology. For example, Grammarly understands your text and corrects grammatical mistakes. Though content generation tools are solely focusing on creating data-driven content for now, it will change soon:
What are its benefits?
Increased traffic: In search engine optimization (SEO), Quality of content is the most important factor that determines the page rank along with page linking. If the search engine ranks your page higher, click-through rate (CTR) of your page will increase, which can lead to higher sales.
More conversions: Content intelligence helps you identify the topics that target the right users. These users would be more likely to convert to leads or customers.
Other benefits:

Get to know your customers: You can gain insights about your customers' behavior so that you can better target the right audience.
Consistent brand voice: Content intelligence ensures your brand voice and language are consistent across all content you created. Once you establish a consistent brand voice, writing content will be easier for marketers since there will be a content creation guideline.
Competitive intelligence: Thanks to content intelligence, your organization will be able to analyze your competitor's content to understand your competition's high-level positioning vs. your own positioning.
What are its challenges?
Content is complex. While it is easy to create hundreds of suggestions for content, it is difficult to highlight the few areas that the company needs to focus on as it depends on numerous factors such as competition, likelihood to convert, fit with your company's area of expertise, etc.
What are the leading vendors?
Amazon Alexa – Not to be confused with Amazon's Alexa voice assistant
Answer The Public
Atomic Reach
BrightEdge
Buzzsumo
Ceralytics
Crayon
Concured
Contently
ContentWRX
Curata
Groovejar
MarketMuse
NewsCred
Powerpost
Quill Engage
Storybase
SpyFu
TrackMaven
If you would like to learn how AI impacts businesses' SEO efforts, feel free to check our article.
How can we do better?
Your feedback is valuable. We will do our best to improve our work based on it.