Due to increasing competition among businesses and growing interest in digital transformation, increasing the productivity of your business becomes more important than ever. This is where RPA gets into the equation and industry data validates the importance of RPA. The global robotic process automation market size is already valued at $1.40 billion in 2019 and is expected to reach $11 billion by 2027, expanding at a CAGR of 34% from 2020 to 2027.
RPA technology has a game-changer for businesses, RPA bots can eliminate/ minimize the need for human labor in rules-based tasks and achieve high levels of ROI (RPA investment has 9-12 months payback period). On a typical workday, employees spend 10%-25% of their time on repetitive computer tasks that reduce the productivity of workers. However, a typical rules-based process can be 70%-80% automated by using Robotic Process Automation (RPA) software so that employees can shift their focus to more value-added tasks.
This is the most comprehensive Robotic Process Automation article online and it would be good to provide quick answers before we dive into the details:
What does RPA stand for?

Robotic Process Automation.

What is RPA?

RPA is a generic tool to create specialized agents that can automate clerical tasks.

Why do you need RPA software?

If you notice yourself or your team working on activities that require jumping from application to application, completing tasks that require little thinking, Robotic Process Automation (RPA) software can help. RPA is a quick yet effective automation tool.

How will RPA software help my business?

RPA bots will automate your back-office jobs so that your business can reduce human errors and increase business productivity.

Do you need coding skills to use RPA?

No,

RPA programming is easier to learn than most programming languages and any nontechnical business user can be trained to automate RPA tools.

What is the best RPA tool?

There is no such thing as the best RPA tool. The right software depends on your business' automation needs, price sensitivity and integration of existing legacy systems.
We answered every question you could have about RPA. With our research, you can be the smartest person in the room when it comes to understanding modern automation:
Understand RPA in detail:
Understand the future of RPA so your RPA work remains future-proof:
Identify how RPA can automate your business processes:
Choose the RPA tool/software that best fits the needs of your business
Choose the right RPA reusable RPA plugins/bots to deploy RPA faster/easier
Choose the right RPA implementation partners for your business:
Put this all together and implement RPA at your business:
Learn more about RPA:
Get all your RPA related questions answered
What is RPA?
According to Wikipedia:
Robotic process automation (RPA) is an emerging form of clerical process automation technology based on the notion of software robots or artificial intelligence (AI) workers.
While Wikipedia's description is accurate, it could be more specific. RPA is a generic tool using screen scraping and other technologies to create specialized agents that can automate clerical tasks. RPA is currently one of the most popular Artificial Intelligence application areas as it allows companies with legacy systems to automate their workflows. Companies are excited about RPA solutions because
most large non-tech companies still rely on legacy systems
a large share of knowledge workers still complete automatable work using numerous systems including some legacy systems
RPA is one of the fastest growing enterprise software categories and there are industry experts that claim that it is hyped up. Feel free to read our article on the level of interest in RPA. It is also frequently called dead, only to keep on growing, we believe that RPA will continue to help companies automate workloads especially on on-prem systems without good API interfaces.
For more, see our detailed blog post on what is RPA.
Why is RPA relevant now?
Because it is the most cost-efficient and effective way to automate modern office tasks. Let us explain why in detail:
1- Employees today use a larger number of tools compared to the past. It is not feasible to automate all those tools and their interactions with simple macros
There's an app for everything today. Hosted in the cloud, integrated via APIs, CRM, ERP, productivity and other apps run today's enterprises. So why do we need to build our specialized robots? Well, the problem is business processes. Business processes need input from different tools and we have been using an increasing number of tools every year:
 In 1990, Office 1.0 had 3 products: Word, Excel, Powerpoint.
Office 2016 has 9 products: Word, Excel, PowerPoint, OneNote, Outlook, Publisher, Access, Skype for Business, Visio Viewer.
With more tools, comes need for integration. Though every major tool has an API, developer company may not provide open access to the API. Without API access users are forced to export complex CSVs and resort to other complex but boring data janitor work. Who can blame the vendors? Every vendor wants to have a sticky product. Sadly. making integration and data migration difficult increases switching costs and creates frustrated but loyal customers. This also explains the rise of tools like Zapier and IFTTT (If this then that) that raised almost $40M.
Sometimes vendors aren't the ones to blame. Most large companies still use some systems built with 2000s technology. And legacy systems are not supposed to be providing integration to modern tools. RPA provides a solution to these problems. Software robots step up to bridge the gaps between systems. Additionally, some business logic involved in business processes are quite simple and bots also automate such reasoning.
2- Advances in computer vision and integrations with common enterprise tools enabled RPA tools to automate processes in every enterprise setting, including remote desktops
Advances in computer vision enabled RPA programs to work with all types of enterprise software starting democratization of automation.
RPA can be thought about as a digital spine connecting all applications. Having a digital spine to connect all applications is more valuable today compared to the past because we have a higher number of applications now. Furthermore, virtual desktops (e.g. Citrix) where the end user has only access to the images from applications presented a challenge for automation. However, leading RPA solutions are able to work with desktop virtualization solutions through a combination of integrations and computer vision.
3- Outsourcing no longer creates benefits as most benefits of outsourcing have been reaped
In the 90s and 2000s, almost every Fortune 500 company invested in low cost countries or worked with Business Process Outsourcing (BPO) firms to outsource their manual processes. They received the same result without remotely the same costs. However, several factors (listed below) prevent outsourcing from playing a larger role and lead to the rise of RPA
Most cost-arbitrage is already completed: While that cost advantage was quite significant, it's fading. According to Deloitte's Global Outsourcing Survey, in 2016, 75% of organizations profiled reported that they had already realized cost-saving targets by leveraging labor arbitrage. If that number is even remotely indicative of the larger population, outsourcing simply isn't the same game-changer it once was.
Outsourcing still requires coordination from expensive labor in the developed world. Unlike bots, BPO companies need more oversight to ensure that they improve their operations
Wages in developing countries are increasing: And the increase is faster than the wage increases in developed countries. While currency devaluations offset some of this trend, developing world labor is still getting expensive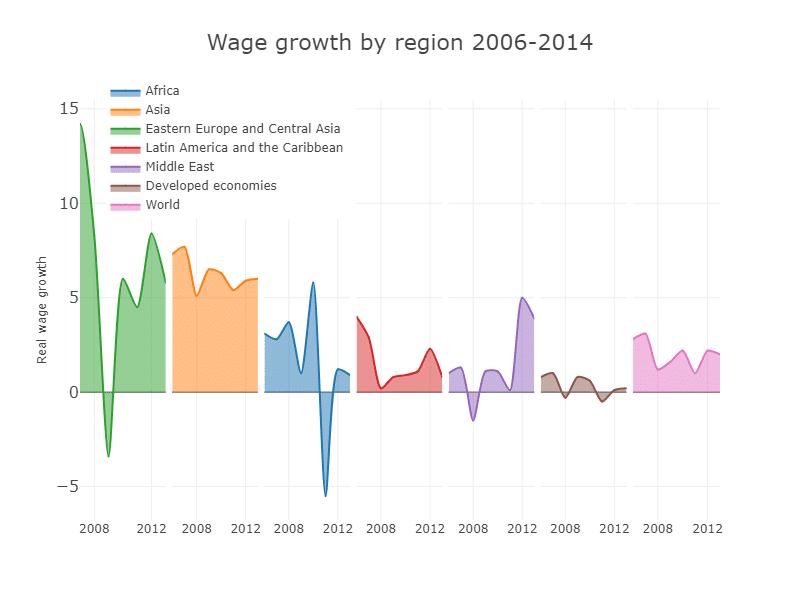 Process errors are costly and BPO leads to limited error reduction: While this virtual labor source is much cheaper than the local talent, it still has some cost and is prone to errors.
Because of these factors, leading companies today eliminate manual processes thanks to advances in artificial intelligence and  machine learning. So whenever your company has a manual process, it is a good opportunity to ask yourself: How can we automate this process? The answer may involve RPA in combination with AI/machine learning.
History of RPA
There are 3 milestones in the history of Robotic Process Automation (RPA): screen scraping, Business Process Automation and Artificial Intelligence.
As Robert Rennie explains the precursors of RPA was simple screen scraping programs built for testing automation. Both leading (UiPath) and emerging (Argos Labs) RPA companies have their roots in screen scraping. For automation of testing or various other tasks, companies need effective screen scraping solutions. However, the first screen scraping solutions, such as those that were available in 1990s were too brittle. They needed reprogramming with every tiny change in the user interface because they relied on component identities in the user interface modules. By late 2000s, early 2010s, the screen scraping solutions relied more on image processing rather than hard coding component names. Therefore, screen scrapers were able to react to changes in the UX in a much more flexible manner like humans.
Over time, financial institutions working with these screen scrapers were able to automate complex processes. This allowed emerging RPA companies to build business process automation solutions on top of their screen scrapers. Business process automation (BPA) solutions existed since 1990s and they were already quite mature so there was not that much research needed to bind BPA to screen scrapers.
Finally, with the rise of AI, companies became increasingly aware that machines could surpass humans in simple cognitive tasks like OCR or pattern recognition. The RPA developers that we know today were born as they added AI capabilities to their software with partnerships and through their marketplaces.
Benefits
No wonder interest in RPA is growing so fast. Manual processes are inefficient, prone to errors and lead to employee dissatisfaction. With RPA companies can
increase speed of/reduce errors in customer-facing processes to increase customer satisfaction
allows employees to focus on higher value-added activities improving both business results and employee satisfaction
reduce manual data edits, increasing quality of data, reducing compliance risks and simplifying audits since RPA bots leave digital log files of all their activities
For a more comprehensive list, I recommend you to take a look at our comprehensive list of RPA benefits.
Is RPA ready for production?
Yes, most large non-tech organizations that rely on numerous systems including legacy applications already piloted RPA deployments with satisfactory results. We have an extensive list of RPA case studies highlighting global brands that set up hundreds of bots.
Global CEOs and their consultants are excited about RPA. Just take a look at these quotes from the most reputable names&brands in business:
In our bank we have people doing work like robots. Tomorrow we will have robots behaving like people. It doesn't matter if we as a bank will participate in these changes or not, it is going to happen.

John Cryan, CEO of Deutsche Bank

RPA is a promising new development in business automation that offers a potential ROI of 30–200 percent—in the first year

McKinsey
The relationship between technology and people has to change in the future for the better, and I think RPA is one of the great tools to enable that change

Leslie Willcocks, London School of Economics professor
How it works
As industrial robots transformed the factory floor, RPA bots transform back offices. RPA bots replicate employee actions like opening files, inputting data, copy pasting fields in an automated way.  They interact with different systems via integrations and screen scraping, allowing RPA tools to perform actions like a white-collar employee.
Bot is the unit of automation
This is the most fundamental unit and there are already free bots offering free trials (provided by Argos Labs), limited functionality (Workfusion RPA Express and UiPath Community Edition) or completely free open-source RPA software for individual users (Robocorp and Robot Framework).
Robots can be run from employees' desktops or from the cloud.
Key features:
Integrations are necessary for your bot to work with your enterprise applications. It is also possible for the bot to screen scrape and still perform tasks however it is more reliable to have app integration compared to screen scraping as screen scraping tends to have a higher probability of causing errors. Most bots in the market work with legacy applications (though coverage depends from vendor to vendor), web applications, desktop applications and other major enterprise software including SAP, Citrix, Java and mainframe applications.
Programming interfaces are required because bots need to be programmed. RPA programming is relatively simple compared to other types of programming and there are code-free ways to program RPA bots. We explain different ways of programming RPA bots in detail in our RPA tools article.
Orchestration modules facilitate management of bots
Management console for your bots and processes. Allows you to start/stop or schedule bots and analyze bot activity. Orchestrators highlight issues that bots encounter and provide a dashboard for the processes that are managed by RPA. UiPath Orchestrator is an example.
Key features:
Business exception handling: No matter how well programmed, your bots will run into issues with the diverse data they encounter. These exceptions need to be highlighted, managed via queues and seamlessly assigned to personnel to be resolved before they lead to any bottlenecks or delays for customers in your processes.
Different user access levels: Several user access levels enables orchestrator to be used by different personnel for various functions.
Analytics capabilities: Bots will be working with legacy systems uncovering a trove of data that may not be available in other analytics modules. Capabilities to run advanced analysis and combine different data sources are critical
Deloitte UK has a nice video on how RPA works on a simple example that shows the bot extracting and processing data from an email:
Possible activities / tasks of RPA bots
RPA bots can use the operating system applications like a human user. Bots are capable of these but please note that this is not a comprehensive list. RPA is too flexible for us to provide a full list of bot actions
Launching and using various applications including

Opening emails and attachments
Logging into applications
Moving files and folders

Integrating with enterprise tools by

Connecting to system APIs
Reading and writing to databases

Augmenting your data by

Scraping data from the web including social media

Data processing

Following logical rules such as "if/then" rules
Making calculations
Extracting data from documents
Inputting data to forms
Extracting and reformatting data into reports or dashboards
Merging data from multiple sources
Copying and pasting data
Bots can do these functions on virtualization solutions like Citrix or on Windows environment. Most vendors do not support other OS environments like Mac OS or Linux. This is because most office work is conducted on PCs.
Document processing
Another common task for RPA bots is document processing. Document-based processes constitute a fundamental part of RPA tasks. With the increasing volume of documents in businesses, automating these processes is a must. While these documents include invoices, receipts, order forms, contracts, and prescriptions, RPA can be used for handling many document-related processes in a wide range of industries. 
However, most RPA solutions do not come with leading edge document processing technology. For example, Hypatos,  a document automation vendor, can be embedded in RPA bots via an easy-to-integrate API to boost automation rates. Using RPA in combination with such document automation solutions will have critical benefits like increased process speed, reduced costs/errors, improved data quality, and employee satisfaction, as these processes are low skill tasks that are required to be done continuously.
For more details, you can also read more about document automation in our article on the topic.
Types of RPA
All RPA tools can be categorized by the functionality they provide in these 3 dimensions:
Programming options: RPA bots need to be programmed and there are a few ways to program bots which involve trade-offs between complexity of bots and programming time
Cognitive capabilities: Programmed bots need to have cognitive capabilities to determine their actions based on inputs they gather from other systems. RPA tools provide a range of cognitive capabilities
Usage: Bots serve specific functions. Though most RPA tools can be used to build bots that serve all these functions, some tools are more optimized for attended or unattended automation. While unattended automation is batch-like background processes, in attended automation users, for example customer service reps, invoke bots like invoking macros. Feel free to read our attended RPA article for more on that topic.
For more, read our RPA tools article which has a section that covers types of RPA in detail.
Alternatives/substitutes
Essentially RPA allows a higher degree of automation through software. Of course RPA are not the only means to achieve automating for processes that cut across numerous systems. Before RPA, companies relied on 3 approaches. These approaches are shown below by Deloitte. Please note that Deloitte has not added cost/efficiency as a dimension here. In most cases involving repetitive simple tasks, RPA is also the most cost-effective approach: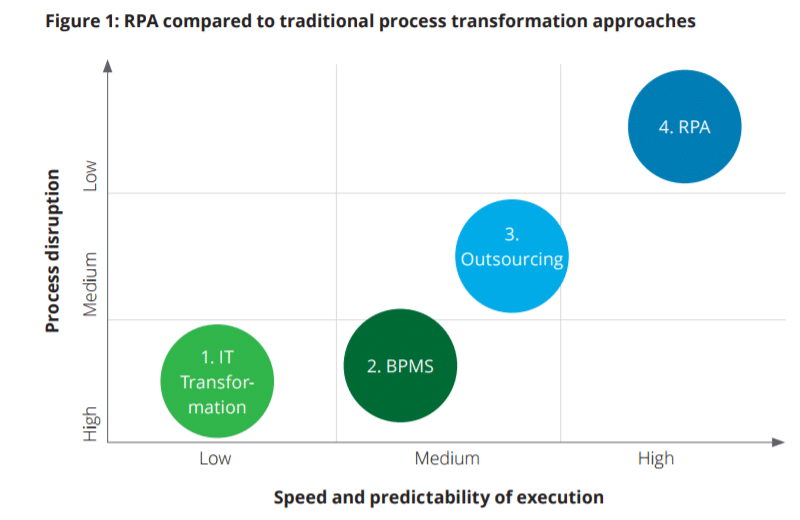 Source: Deloitte
In short, none of these approaches offer the flexibility, speed and cost advantages of RPA. However, as CIOs know that management is the art of trade-offs. And sometimes IT transformation solutions though they are slower, generate better returns in the long run. If you are not sure that RPA is the right process automation solution for your business, learn more about RPA alternatives.
Understand the future of RPA so your RPA work remains future-proof
These are 3 Achilles heels of RPA which leading solution providers are working to fix. All of these solutions focus on the 2 most expensive portions of RPA deployment: 1- Design & development and 2- maintenance. These solutions are:
No code RPA: No code RPA companies rely on cheaper resources and reduce RPA development time
Self-learning RPA: Automating process modeling using system logs and videos of users working on the process
Cognitive RPA: Enriching RPA with advanced functionality such as image processing and Natural Language Processing
Feel free to read our future of RPA article for more on this.
Identify how RPA can automate your business processes
RPA use cases/application areas
Numerous business processes can be automated with RPA. Some examples that exist in almost all industries are:
Application processing
Quote-to-cash
Procure-to-pay
Data migration and entry
Periodic report preparation and dissemination
There are also numerous industry (e.g. telecom, financial services) or business function (e.g. marketing, sales) specific processes that can be automated with RPA. If you want more ideas on how to apply RPA at your company, we listed >50 RPA application areas in detail.
RPA case studies
Every industry (e.g. telecom, financial services etc.) and business function (e.g. marketing, sales etc.) has different processes. So it's not easy to get a list of processes to automate for your specific industry and business functions. That's why we are creating a sortable list of RPA case studies so you can see processes companies in your industry automated in your business function.
Industries that are being transformed by RPA
If you ask the vendors, they will tell you that any industry is ripe for RPA automation, which is technically correct. However, RPA can have greater impact in some industries than others. RPA is a solution you should put at the top of your company's agenda if you business fits any of these descriptions:
Uses legacy systems
A significant portion of the cost is driven by repetitive processes
Some industries that have companies that fit both of these points are listed below. Most of these are old companies that rely on legacy systems. RPA can achieve significant savings and customer satisfaction increase in branches, call centers and the backoffice.
Financial services including banking and insurance
According to SSON Analytics, banking, financial services, and insurance are the top industries where RPA solutions are implemented. This is because data entry and processing is an important part of these businesses. Furthermore, these businesses are subject to constant changes in regulation such as KYC requirements. Bots can be taught regulatory changes quickly and in a centralized way. This helps companies avoid embarrassing compliance issues.
According to Accenture's report on insurance process automation, some good activities to automate are:
Sales processes

Updating sales scorecards to agents
Conduct required regulatory and legal checks (KYC)
Conduct credit checks
Account maintenance services not currently supported by straight-through processing

Underwriting

Data entry for clearance and registration processes
Update systems with client information
Generate a renewal premium

Policy servicing

Update to customer information including bank account details
Reject or cancel policies if payments are not received
Identify and reconcile policy premium discrepancies

Claims processing

Process claims payments for pre-approved amounts
Assign to claims handlers
Input First Notice of Loss (FNOL) submissions
Notify loss adjusters

Finance

Automate daily bank reconciliations
Process low-risk payments
Utilities like telecom and energy
According to previously mentioned McKinsey report, 44% of activities can be automatable. Since these are the oldest subscription businesses, they have payment and customer service processes which can be automated.
Choose the RPA software that best fits the needs of your business
What's the best RPA software?
We did our best to answer this question by looking at the most popular/best-funded RPA solution provider. However, this is not the right question because the right software depends on the processes that need to be automated, price sensitivity of the buyer, current software used by the buyer and other criteria. Read on to find the right RPA software for your business.
Choose the right type of RPA tool
There are 2 major types of RPA tools covering different types of RPA automation:
Programmable RPA tools: These are the most commonly used RPA tools. Programmers need to understand the process and code a set of rules governing how the RPA bot will function. For complex unattended automation tasks, these tools are needed most of the time.
No code RPA tools: Process still needs to be analyzed and understood but instead of programming, users rely on a visual user interface and macro recording to build automation. This obviously seems preferable to programmable solutions and in attended automation, we expect these tools to gain more widespread acceptance.
There's increasing interest in self-learning solutions as we explain in our future of RPA article. Using historical (when available) and current data, these tools monitor hours of employee activity to understand the tasks completed and to start completing them after they have reached enough confidence to complete the process. These solutions are very attractive since they reduce can significantly reduce time for automation and some vendors claim to have such solutions, however, we have not heard validation that these tools indeed work from RPA customers yet.
Additionally, all of these tools can be complemented with Cognitive/intelligent automation capabilities. These solutions (also called smart or intelligent automation) deal with both structured and unstructured data using latest AI and machine learning technologies. Read more in our article on cognitive automation
If we leave aside self-learning solutions which are not ready for enterprise use yet, it is obvious that no code tools combined with cognitive/intelligent automation solutions are the most attractive ones. However, we have seen cases where programmable bots were recommended by RPA resellers rather than no code RPA tools.
One complication in the RPA landscape is that most companies purchase RPA solutions from implementation partners rather than the companies building the technology. Implementation partners allowed vendors like Blue Prism and WorkFusion to have quick access to a global customer base. Professional services companies like Deloitte, technology consultants like Accenture, Business Process Outsourcing (BPO) providers like Genpact have existing relationships with a large number of customers in various industries. They used these relationships to sell RPA implementation solutions.
Depending on the revenue model, implementation partners can be incentivized to increase their billable hours and recommend programmable solutions which creates a conflict of interest between RPA customers and implementation partners. However, this should be easily solvable by procurement best practices such as ensuring that different implementation partners that cover a wide variety of RPA solutions are part of the bidding process and compete to offer the most efficient proposal for your company.
You can learn more from our detailed overview of RPA tools.
Choose the right RPA vendor to provide the tool you selected
As we discussed above, there are different types of RPA vendors:
Established tech providers
1st wave RPA focused vendors
2nd wave RPA focused vendors
Business Process Outsourcing (BPO) providers
You should first create a shortlist. Once you have your shortlist ready, you need to compare vendors in a bit more detail, looking at these criteria:
Total cost of ownership including initial setup cost, ongoing vendor license fees, maintenance cost
Ease of use
Security
Features such as system requirements, integrations, screen scraping capabilities, cognitive automation capabilities
Vendor experience
Support
For more information on this, explore our guide on how to select the right RPA partners or directly go to the most up-to-date and comprehensive list on RPA products. 
Pricing – Learn the costs
As you can see on our page on RPA vendors, there are more than 50 RPA vendors operating globally which should create some pressure on prices. First, major RPA providers offer their tools for free to
encourage developers to adopt their tools
to allow companies to thoroughly test their tools before making a purchase
If you aim to try RPA without taking significant financial risks, starting with WorkFusion's RPA Express or UiPath Community Edition could be a good option. However, these versions are quite limited compared to the full automation capabilities of their paid tools.
Upgrading from the limited free editions, your company will need paid installations. Pricing generally depends on number of bots or number of activities automated. We summarized different vendors' pricing policies in a table here.
Most companies do not publicly share their pricing but especially new entrants are challenging that notion. For example, Argos Labs is quite transparent with their pricing. Their offer of $50/month/bot is the lowest we have seen in the market. Probably that's why they are so transparent about it.
Choose the right reusable RPA plugins/bots to deploy RPA faster/easier
Accelerate your RPA implementation with emerging RPA marketplaces/bot stores
While rapid implementation is one of the strengths of RPA, there is still potential to reduce implementation time. RPA implementation partners have started to build plug&play bots for highly standardized processes. Benefits of these ready-to-install bots include
Reduction in implementation time and effort
Process improvement: As companies use pre-built bots, especially bots customized for specific processes, they can identify process improvement opportunities
Reduced bot maintenance costs: Industries need to adapt to similar changes due to regulation (e.g. GDPR) or changing customer preferences. Marketplaces can be a resource for companies to reuse maintained bots that are updated in-line with changes in the market.
To learn more, read our article on RPA marketplaces.

What are reusable RPA plugins/bots?
Reusable RPA plugins/bots are programs that can be added to your RPA tool to take care of specific tasks like data extraction from invoices, manipulating dates in different databases, transcribing speech, etc. Therefore, they reduce development efforts, error rates and implementation time.
RPA is a flexible automation platform. Therefore, rolling out RPA solutions require significant programming and customizations. In this way, RPA is analogous to programming languages and platforms which are also flexible automation tools. Functions are critical in software development as they enable code reusability, reducing development time and errors. RPA is no different, reusability reduces RPA development times and programming errors.
For example, we have seen that almost half of RPA projects involve document processing. Most RPA installations involving document based processes require implementation teams to use OCR and rules based simplistic programming techniques to get structured data from documents. This is no longer necessary. Vendors that use deep learning to process documents, such as Hypatos, are available on RPA marketplaces and offer easy-to-integrate APIs. They convert document images into structured data, allowing RPA tools to focus on the function they serve the best.
You can also build and integrate custom machine learning models easily into RPA bots. If you have access to unique data which can be used to automate processes, it may make sense to work with an AI consultant. They can build a custom model that can provide high levels of automation. We can help you identify such consultants:
To learn more, read our article on reusable RPA plugins/bots.  
How to choose reusable RPA plugins/bots to speed up RPA deployment?
If your RPA vendor has a marketplace (e.g. Automation Anywhere Bot Store), you can find apps there.
However, please be aware that RPA app industry is indeed an emerging industry and the marketplaces currently have limited reviews/ratings to help you find the most highly regarded developers. In cases where there's little user feedback, it could make sense to understand how popular the developer is, understand the developer's track record and follow procurement best practices. To learn more, you can read our guide on choosing RPA plugins/bots. 
Choose the RPA consultant that fits your business needs& budget
Decide whether to have an in-house or outsourced implementation team
Even after you choose the solution your company needs, you need to decide whether your team has the capacity and experience to complete the automation. If they do not have the time or experience to set up RPA bots, business service providers like Accenture and Infosys can help. They offer RPA setup support for enterprises that would like to work with a hands-on partner while rolling out their bots.
While working with a business service provider speeds up deployment, it is more expensive than an in-house deployment team. If you are working for a large enterprise that will use RPA to automate numerous processes, eventually your company will need to build its own RPA deployment capabilities. We are seeing companies set up centers of excellence for RPA and other automation technologies. For example, UBS in UK has an RPA center of excellence led by Richard Wiggs. This is definitely a worthwhile investment for large companies.
For more, read our in-depth article on RPA consulting.
If you need an RPA consultant, a few criteria can help choose the right one
Choosing the right RPA consultant can make or break your RPA deployment. Here are a few key criteria for evaluating RPA implementation partners. We sorted them from higher to lower priority:
Partnership with the RPA vendor you chose: Choosing the right RPA tool is important as capabilities of the tool will determine your business' RPA development timeline and automation capabilities. You should only work with RPA implementation partners that are partners of the RPA software vendor you chose.
Geographic coverage: While some global companies can be great in certain markets, what matters in this situation is the strength of that company's local team. After all, RPA implementation is a local service that is completed by the local team.
RPA Experience
Process-Specific Experience: The more they know the process to be automated, the less your team needs to spend time explaining details of how they run the process and its exceptions and so on.
Industry-Specific Experience: The more they know your industry, the less your team needs to spend time explaining details to them.
Existing relationship: It is easier to work with partners you already know.
For more on RPA consultants, read our RPA consulting guide which includes a list of 150+ leading RPA consultants including information on their geographic coverage and RPA tools they use.
RPA implementation guide
How to implement RPA at your company
In short, you need to select the best candidate processes for RPA, get management and team buy-in and implementation, run a pilot and go live. While the overall process is simple, devil is in the details.
Understand the overall timeline to manage expectations
Based on the customer survey of RPA provider, UiPath, an RPA deployment typically takes 1-2 months including time required to configure, test, and launch automation into production. However the complexity of the process, team size and level of automation will all impact project duration. Our recommendation would be to start with modest aims.
To learn more, check out our RPA implementation article.
Plan implementation – Our roadmap based on best practice implementations
Any complex process can be broken down into simple steps and an RPA implementation is no different. Though you may need to coordinate both company and vendor resources to achieve RPA automation, knowing the necessary steps makes implementation easy:
Select impactful yet easy to automate processes

 To maximize the impact of RPA, identify impactful processes. These processes tend to be

Impacting both cost and revenues
High volume
With low fault tolerance
Error-prone
Speed-sensitive
Requiring irregular labor
Distributed processes that require coordinated efforts of multiple departments

Select processes that can be easily automated with RPA. Such processes tend to be

Rules-based
Company-specific
Not on the roadmap for new systems

Convince the organization: Even in automation, it's really about the people.

Get management buy-in
Establish governance structure
Get team buy-in

Implement the solution

Choose your RPA tool
Decide whether to outsource RPA development to an implementation partner
Choose your partners. This includes the RPA technology provider but can also include a consulting or BPO company if your internal resources can not dedicate the time necessary to automate the process
Run a pilot:

Understand the process ideally by using a process mining tool. ~80% of the automation effort which is focused on exception handling, can be improved thanks to better process understanding. Process mining vendors share statistics claiming that RPA business value can be increased by 40% thanks to process mining.
Configure the RPA bot
Test RPA bot
Run a live pilot
Evaluate pilot results

Go live

Design the new, bot driven process
Clarify roles and responsibilities
Go live
Analyze results
While this is the high-level process, you can also read all implementation-related details on our blog.
Avoid common pitfalls
We have seen these pitfalls in RPA implementations:
Organizational pitfalls: Lack of commitment either from management or the team itself can delay any project and RPA projects are no exception.
Process pitfalls:

Attempting to automate processes without fully understanding them. Process mining helps companies understand their processes in detail which makes it easier to program and deploy RPA bots while taking into account edge cases and different inputs. Process mining can also be used for fixing failed RPA initiatives, as it is hard to identify the reasons for these pitfalls. According to a process mining vendor case study, Piraeus Bank had an unsuccessful automation initiative because they weren't aware of their as-is processes. Process mining

gave them a full picture of actual processes

and identified the root causes of why its RPA initiative failed.

Choosing an overly complex or insignificant process will lead to limited impact. For example, implementing RPA to an area like expense auditing where specialized solutions exist, can lead to significant effort without satisfying results.

Technical pitfalls: Choosing a difficult-to-use RPA tool can slow down development efforts
Read our comprehensive list of RPA pitfalls for more info.

Post-implementation: Manage your RPA installation
Measure the impact of RPA
So what should you expect to get as a result of an RPA implementation? Vendors claim significant KPI improvements:
Blue Prism automated 14 processes of a BPO, achieving ~30% cost saving and improving service quality and accuracy. One can't help but wonder if they passed those savings to their customers
Outsourced services provider Xchanging observed 11-30% cost reduction depending on processes automated. Company has seen dramatic increases in speed. Company was receiving unstructured data from its clients which were manually processed. Through automation, a process that took months, started to be completed in minutes.
Cognizant helped a medical insurer automate claim adjustment process leading to 44% cost saving.
As famous leader in management, Peter Drucker, is noted for saying: "If you can't measure it, you can't improve it". This definitely applies to the impact of RPA. Measuring its impact helps elevate the role of the implementation team, builds an appetite for further productivity improvements and encourages the team to identify areas where they can improve. Though it is complicated to do a though A/B test with process automation, looking at output and size of related teams before and after the RPA implementation will give a good idea about the impact achieved with RPA.
Manage your technology in light of RPA
Long term IT investments can sometimes be planned in isolation of capabilities developed by non-tech teams. And RPA gives non-tech teams a strong tool to automate their tasks. Therefore it is important for tech and non-tech teams to collaborate and ensure that automations completed with RPA are not re-programmed in applications. Scarce technical resources would be better deployed in building changes to applications that can not be completed by RPA tools.
Consider launching an RPA center of excellence
Once you have proved the benefit and viability of RPA projects, you need to consider how you can launch new RPA projects effectively. Most large companies choose to have RPA centers of excellence that help teams launch, audit and improve RPA projects. The crucial thing here is ownership. The business units themselves must be responsible for RPA installations or else center of excellence teams will find themselves responsible for processes they do not completely understand. Center of excellence teams should focus on aggregating best practices and helping teams ramp up quickly.
Manage the impact on jobs
RPA will inevitably lead to predictable redundancies as bots take over more work from humans.
For all/most employees, once most of their responsibilities are automated, new responsibilities can be assigned. The good thing is that you will know in advance which personnel will be redundant which gives managers time to identify new roles for the personnel and train them for the transition. However, this can not be a departmental effort. HR should coordinate the new assignments and managers across the organization should be motivated to take on employees that have become redundant.
As with any industrial revolution, post-AI world also makes some formerly valuable skills redundant. Workers who are specialized in automatable tasks will inevitably be let go if they fail to improve themselves. Though hopefully such cases will remain rare, it is critical for management to handle those cases as professionally as possible. People need support from their old managers to continue their professional lives in the best way possible.
RPA Training
Since RPA bots need to be programmed, there's a whole industry of RPA courses and tutors. If you are aspiring to get a job programming RPA software solutions, think twice before you pay for any training.  RPA companies are doing their best to make sure that their solution is the most popular among developers so there are quite high-quality free training and community support online. I would first take some free courses and then explore paid alternatives after getting familiar with the products. Some examples:
Not all RPA providers offer free public training though. For example Blue Prism's training courses are confidential to its partners.
However, if you are already working for a partner or customer of these companies, then you can use their trainings for free to improve your skills. We have an article on RPA training where we collect RPA training resources.
Movies have been showing us physical robots for a long time. However, the first AI bots that we will work with are software bots. This shouldn't be surprising as hardware is hard while software is eating the world. We covered all major aspects of software bots/robotic automation here. If we missed anything, let us know in the comments!
For more info:
Our recommendation is to get your hands dirty ASAP, that's the best way to learn more about any topic! If you are ready to contact RPA vendors who can help you get started, let us know so we can help you:
How can we do better?
Your feedback is valuable. We will do our best to improve our work based on it.