Two factors are leading to increased telecommuting:
social distancing due to the coronavirus pandemic
Though social distancing may be relaxed, with employees getting used to working from home, a new normal of more telecommuting may take place
Some organizations have seen productive outputs from telecommuting and want to switch more to telecommuting. However, establishing a successful remote work strategy is not easy and companies switching to remote working should avoid common pitfalls.
We have 3 years of experience with working remotely as a global team and we would like to share our experience by combining it with others' experiences to help you adopt best practices from day 1.
What is telecommuting?
Telecommuting is a business approach where employees work from home or another location outside the office space. It is also referred to as telework, teleworking, working from home (WFH), mobile work, remote work, and flexible workplace.
Employees connect to business via online communication tools such as phone, email and video conferencing when their presence in the office is not required. Thanks to advancements in virtual work environment technologies, more organizations are shifting to remote work.
Why is telecommuting important now?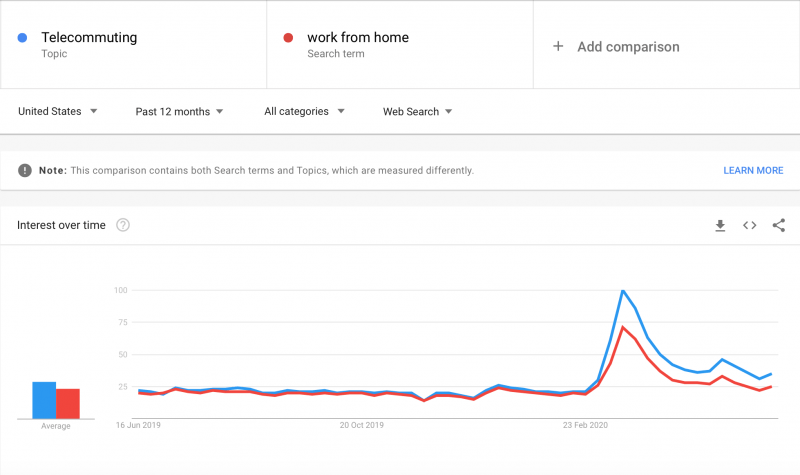 Though the work-from-home movement became popular due to quarantine requirements after the coronavirus pandemic, it has gotten into our lives in 1973 with Jack Nilles' book called The Telecommunications-Transportation Tradeoff: Options for Tomorrow. It was just an idea back in those times. However, advancements in communication tools made it a reality. According to a survey conducted in 2019, 30% of people report that they are working for a fully remote company.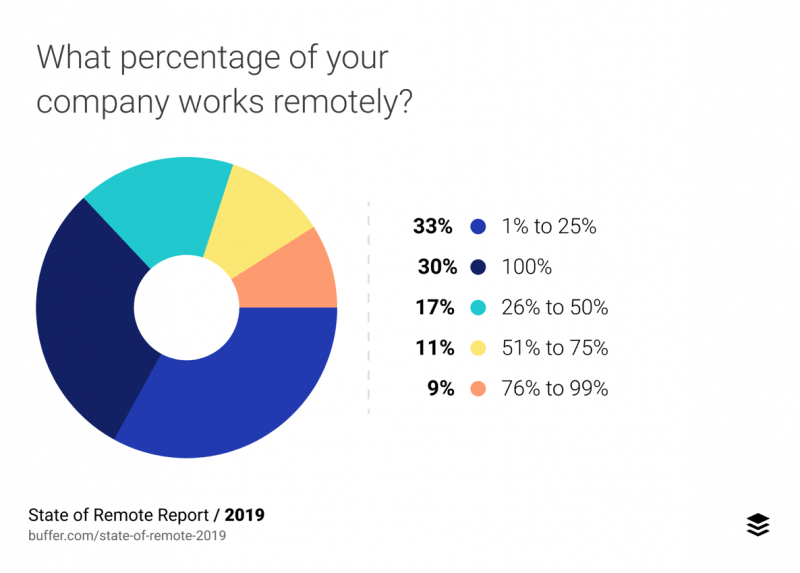 As seen in the figure above, 50% of people were working in a company that is either fully remote or >50 percent remote. However, after the pandemic, we are certainly going to see more companies that are shifting to telecommuting. According to the 2020 Gartner CFO survey, 74 percent of companies will move at least 5 percent of their previously on-site employees to permanently remote positions post-COVID-19.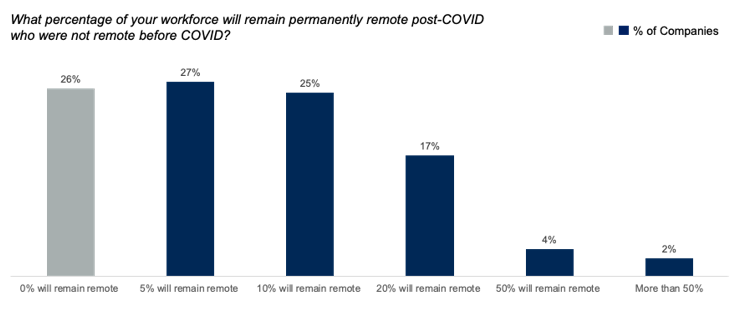 For instance, CEO of Facebook Inc., Mark Zuckerberg, has announced that they are "aggressively opening up remote hiring" especially for engineering talent and expects that 50% of Facebook employees will be working remotely in 5 to 10 years.
Shift to WFH will continue due to several reasons:
Learned lessons from Covid-19 pandemic
Pandemic became a tipping point for businesses and they acknowledged that being present in the office is not necessary to run a business smoothly. They realized there are ways to make remote work a productive, effective way to work over a long term basis. This will lead to companies adopting more telecommuting tools to facilitate the WFH approach.
Happy employees = Productive work
Researches show that workers are 13 percent more productive when they are happy and happiness comes with a healthy work-life balance. Therefore organizations are willing to streamline operations and improve company culture through a healthy work-life balance. According to a survey conducted by Owllabs, a remote working vendor for video conferencing, 83 percent of respondents says that the ability to work remotely would make them happier. Even 34 percent of respondents would accept a pay cut of up to 5% to be able to work remotely. Also, businesses can retain their talent easier since employee happiness is higher.
Change in preferences of Gen Y and Gen Z
According to the PwC study, Millenials (the generation born between 1980 and 1995) do not believe that the number of hours spent at the office determines productivity. Productivity should be measured by the work output. The study shows that 69% of millennials will trade other benefits for flexible work options, including WFH. As the approach toward work changes, companies are likely to transform their way of work.
Which industries are most suitable for remote work?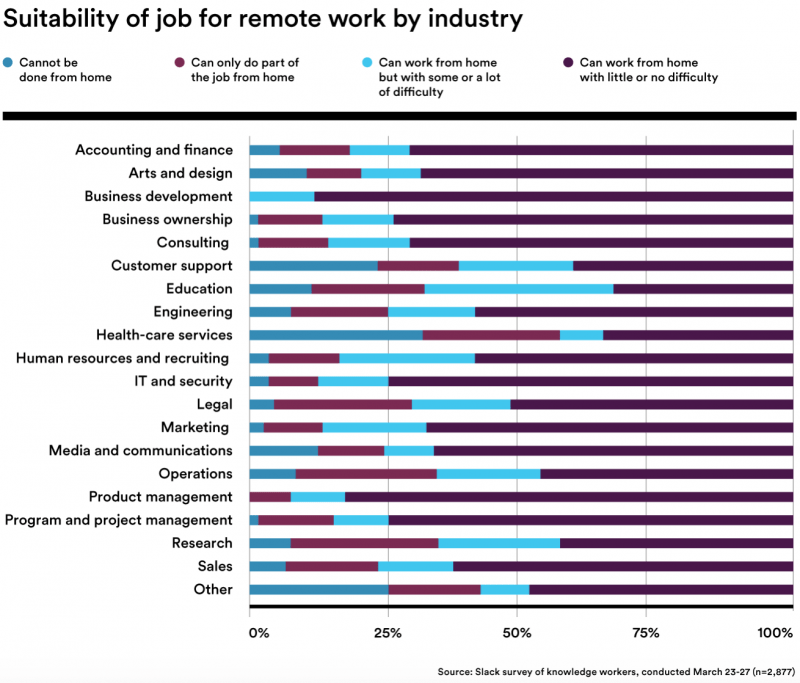 Though various industries can shift toward work-from-home practices, most suitable industries are:
Sales and marketing
Customer service
IT
Consulting
Management
Financial services
Research
A substantial amount of industries are suitable for remote work, however, COVID-19 showed that readiness to WFH practices for each country different. Below graph highlights that countries on the left of the graph experience bad connections which result in a decrease in productivity.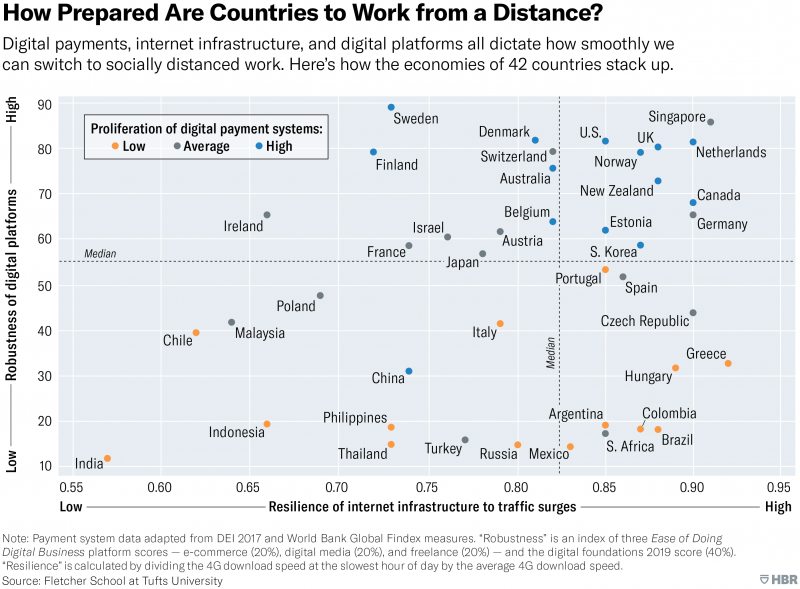 What are its benefits?
For business
Expanding candidate reach: Organizations are not compelled to find the right talent from the region where the headquarter office is located or pay more money to bring the talent from overseas.
Avoiding the risk of productivity decrease due to traffic congestion: According to The Impact of Traffic Jam on Employees Efficiency research,  there is an inverse correlation between employee productivity and traffic congestion in the city. In other words, experiencing a traffic jam before office hours decreases the productivity of workers
Cost-effective: The average cost of a commercial office space per person can start around $300 per month in the US. Telecommuting can help organizations save office rental costs. As reported by Buffer survey, most companies don't even pay for the costs associated with remote work: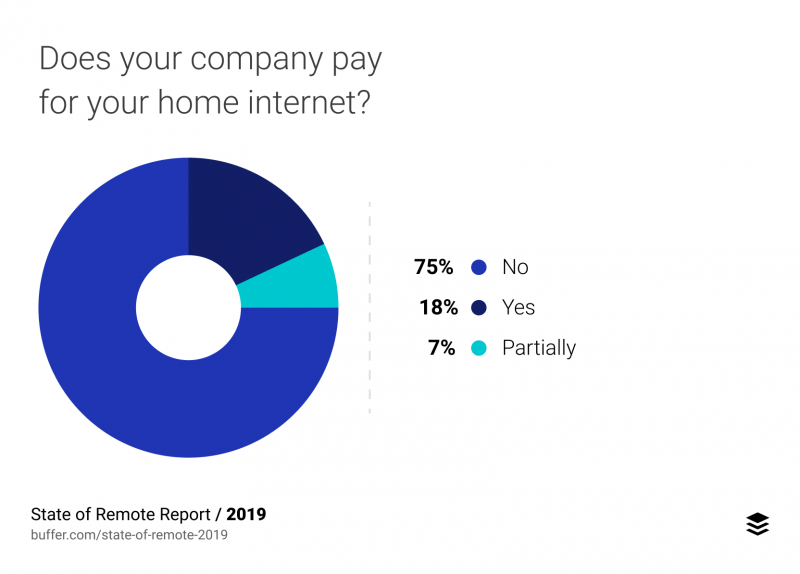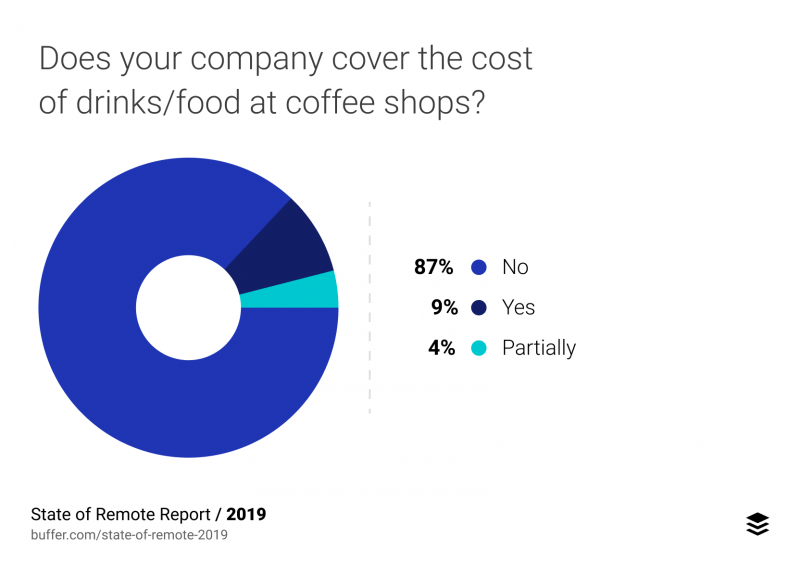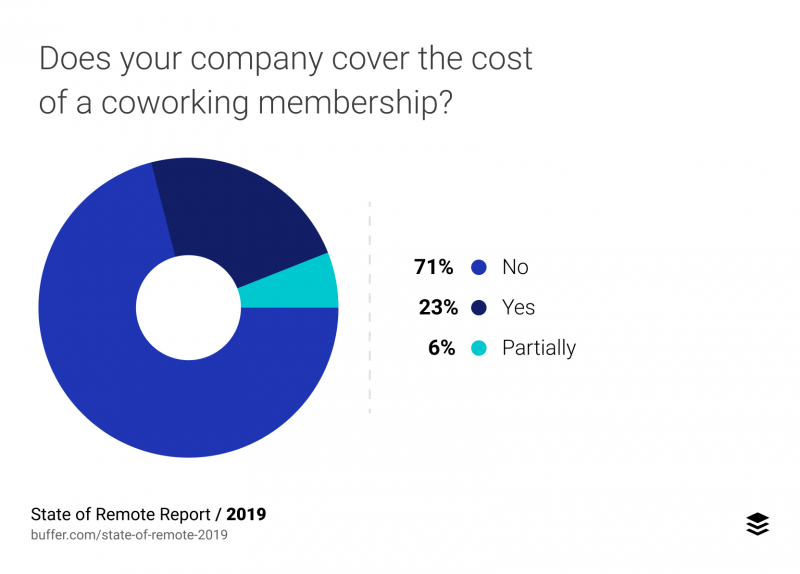 For employees
Flexible schedule: Workers gain more flexibility around their working and living arrangements so that they can better balance time between work, hobbies, and time with friends and family.
Less stressful: Remote workers don't experience stressful traffic congestions when they are working from home. Studies show that for each 15% increase in traffic (i.e. 5mph slower approx.) there was a 1.5% decrease in a person's happiness.
Working from any location: Probably one of the best benefits of remote work for employees. Remote workers can work from any location that has an internet connection and computer.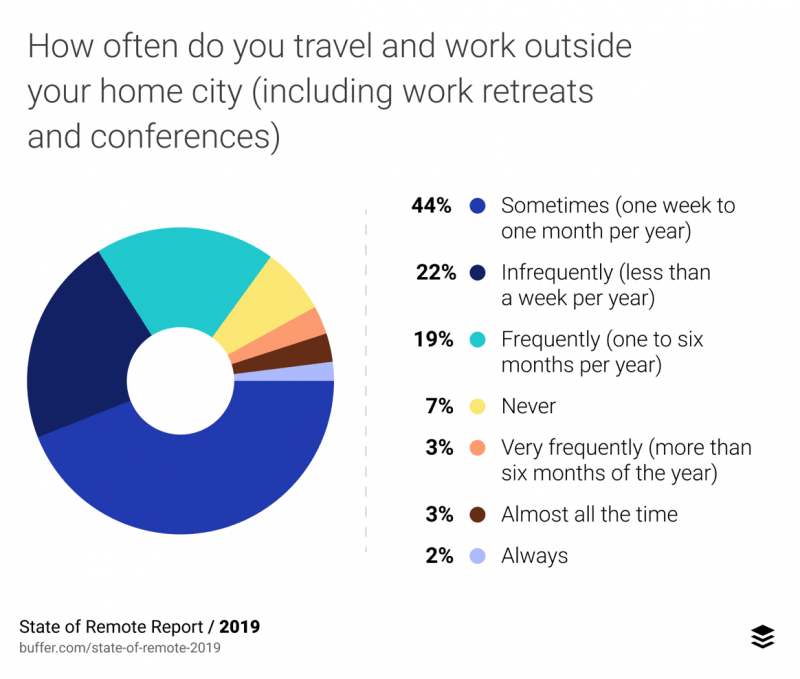 What are its challenges?
For businesses
Performance management: Historically, performance management relied on gut feeling (i.e. how a manager felt about the employee's performance). It is harder to have that when the manager and the employee are never in the same place. Though companies put some fancy wording behind gut feeling (e.g. 360 evaluations – gut feel from more people) and encourage employees to use specific examples, it was rare for performance to be measured objectively for non-sales employees. With the rise of Objectives and Key Results, more companies are embracing management by objectives and assigning measurable targets to their employees.
Collaboration: Teamwork is a key factor for your business' success. Implementing a collaboration tool helps your team align their work and remote workers' sense of belonging at work increases since they communicate more with other team members.
Time zone differences: Telecommuting provide flexibility to businesses in onboarding processes. Organizations can choose the talent they hire from different countries. However, hiring a worker from out of your country may force you to change meeting schedules since you might be waking up just when your teammate is going to bed.
Security: Remote workers' workplace is flexible. They may work-at-home,  at a coffee shop or coworking office. Is WIFI network at the coffee shop safe? The answer is definitely no! If organizations plan to shift to telecommuting practices, they should invest in endpoint security software to secure touchpoints and enterprise data from adversarial attacks.
For employees
Distractions: Social media, children, and adult family members or friends are common distractions remote workers frequently face. Specifically, newly remote workers (experience< 1 month) struggle with productivity issues
Unplugging after work: Remote workers may struggle with disconnecting from work due to projects that are accumulated because of insufficient time management. If you set goals regarding your time availability, unplugging will be much easier.
Late orientation to work: Office workers adapt to work faster since they are surrounded by experienced co-workers. Remote workers don't have such a chance.
Loneliness & fear of not gaining visibility:  A remote worker may spend his week without talking to a human face-to-face if they live alone. Studies show that 20% percent of remote workers feel lonely because of the way they work. Not being able to show how you dedicate yourself to work is also a fear of remote workers.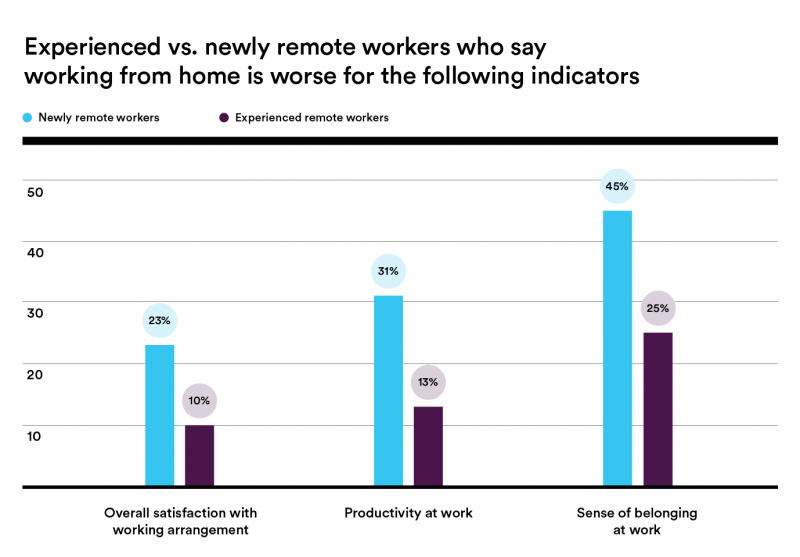 What are best practices for remote work?
For remote team managers
Management by SMART objectives: Unless you can track your team's progress clearly by relevant, regularly monitored KPIs, remote working is hell. Implementing team and individual goals should come before switching to remote work.
Communication: You need to communicate more since you are missing the daily interactions.

Fixed daily meetings:  Daily fixed interactions are a must for a high performing team, especially if it is dealing with changing priorities
Coaching: Employees need to grow to become autonomous in their roles and coaching is necessary to achieve that. While the office offers many opportunities for coaching, that is not the case for remote work and managers should dedicate time to coach their teams
Celebrate successes: Without personal interactions, companies need to use success as opportunities to build their team spirit

Embrace the cloud: On-premise makes even less sense when employees need to use remote connections to use the company's systems
For employees
Test&Trial: The way people work differs. Therefore if you don't have experience in remote work, you should use your orientation weeks with tests and trials. To find the most productive version of yourself, try and evaluate different approaches such as

location of your workplace (home, coffee shop, coworking office),
time of work (morning or afternoon),
with music/ without music,
 work nonstop to finish tasks earlier/ take a few breaks at intervals such as by following the Pomodoro approach of 25 minutes of work followed by 5 minutes of break.

Work at a desk: According to a study, 80% of young New York City professionals work regularly from the bed. However, health experts say that helping your body recognize bed as a place for sleep (not work) can have a positive effect on your sleep.
Manage disruptions: Kids, noisy neighbors etc. are all parts of daily life. You need to find ways to manage them effectively to ensure that you can be productive while also spending quality time with your loved ones.
How to find a remote worker?
Besides traditional methods such as posting open job positions on Linkedin or other recruiting network pages, on-demand recruiting services can help organizations find the right remote talent when the business needs.
We've written an in-depth guide to on-demand recruiting, feel free to learn more.
What are the technologies&vendors that enable working from home?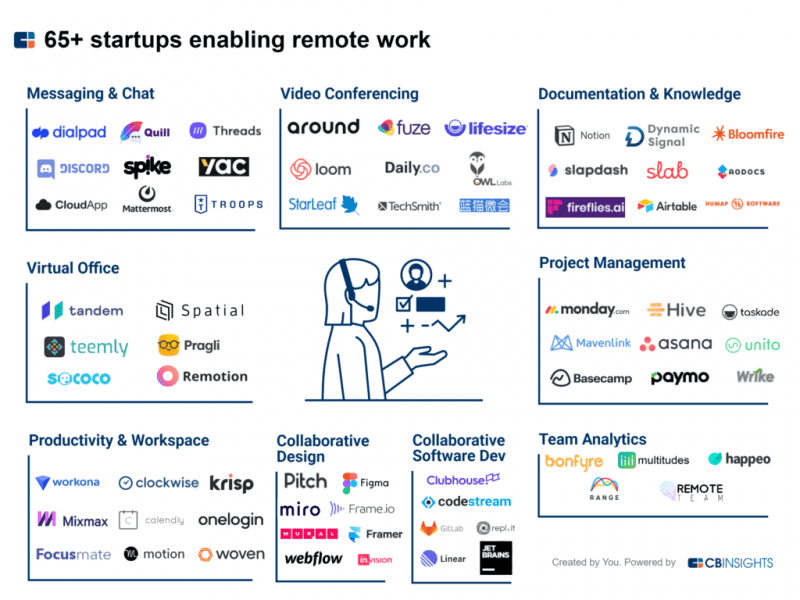 Though a decent WIFI connection and a computer are the main components of remote work, technologies that enhance collaborative work and productivity complements the technology landscape of telecommuting. These technologies can also be part of your digital transformation journey.
Virtual collaboration software
These tools are designed to better facilitate teamwork and they are valuable to increase employee productivity and efficiency.  Virtual collaboration tools provide communication, conferencing and coordination.
Communication tools include mail, instant messaging apps and  Voice-over-Internet Protocol (VoIP) calls. Slack, Skype, Rocket Chat and Flowdock are some examples.
 Conferencing tools allow two or more people to talk with each other on a unified screen using Internet-based or cloud-based platforms. These tools provide video conferencing and common user access to documents so that each team member can review and edit information or data simultaneously. Some practical tools are GoToMeeting, Skype, WebEx, Zoom and Google Meet.
Coordination tools provide features such as document sharing, ERP and project management systems. Leading vendors for each feature are
Cybersecurity software
Cybersecurity is another must-have technology for telecommuting due to the increasing number of cyberattacks and vulnerabilities of touchpoints.
We have written about cybersecurity tools before that's why we don't go into detail. Just click on links to learn about cybersecurity solutions and vendors:
Cyber Threat Intelligence (CTI)
AI Security: Defend against AI-powered cyberattacks
How can AI contribute to remote work?
Boring work is harder to complete while working from home and automation becomes a bigger priority for companies as they switch to WFH. The use of AI helps remote workers to automate manual and repetitive tasks. For example, if the HR team works from home, tools such as AI resume screening&matching platforms can help HR professionals review resumes faster so that they will shift their focus more to management.
If you want to share your knowledge and methods of remote work, please leave a comment.
If you still have questions about telecommuting, we would like to help:
How can we do better?
Your feedback is valuable. We will do our best to improve our work based on it.