Using AI-powered Enterprise Content Management (ECM) systems, companies are able to reduce their processing times and costs by >50% and make it easier for employees to find relevant information. This article will focus on AI use cases in ECM such as document/process automation, facilitating collaboration and content management.
ECM is also called Content Service Platforms (CSP) or Intelligent Information Management (IIM). If you want to get an overview on ECM, we explained how AI is changing Enterprise Content Management (ECM) previously and prepared an exhaustive ECM vendor selection list.
What are AI applications in ECM?
Document processing
Documents are everywhere and they can be classified as semi structured data. All documents of a certain type have certain data included in them. For example, all invoices include a sender and recipient, all contract include the agreeing parties, terms, an agreement date etc.
Companies, individuals and governments use documents to communicate with each other. Even though XML/JSON based machine-to-machine (M2M) interfaces are becoming increasingly common, documents are still an important part of communication since adoption of M2M interfaces takes time.
Document splitting
Companies often collect multiple documents from their clients and store these in a single file. For example, a visa application agency may collect a copy of your ID, passport, bank details, etc. and scan all these documents to a single file dedicated to your application process. ECM split these files into individual documents so they can be processed.
Document classification
Different documents require different processing steps. For example, invoices need to be paid out to suppliers, receipts submitted by employees need to be paid out as part of wages etc. And different types of documents can be combined in submissions to the company. For example, a supplier may send the contract along with an invoice and these documents would need to be processed in different ways. Therefore, identifying the right type of document is important to automate document processing.
An AI / ML facilitated ECM system can classify documents and store them in easily retrievable environments. Machine learning algorithms learn from existing data and apply the knowledge on unseen data. Therefore, information in the company's existing documents can be used to classify more recent documents and store them in easily retrievable places for later usage. Based on the type of document, additional document specific workflows can be triggered for automation.
Document data capturing
Document data capturing technology can extract data from documents with high accuracy thanks to machine learning models.
Captured/extracted data processing
Once data is captured, it can be analyzed, validated or enriched, ensuring end-to-end process automation. For example, semantic analysis and natural language processing techniques can be used to analyze text data captured from documents.
If you want to learn more about document processing, feel free to check our articles about document automation and contract automation.
Unstructured data processing
Emails, videos, audio files are classified as unstructured data since a certain type of unstructured data (e.g. emails) do not include any common data beyond some metadata such as sender, recipient and email delivery date. These data also need to be analyzed and processed.
Emails
For example, an AI-powered ECM system can analyze the language used in emails and other unstructured documents to reveal information about the documents' context and intent and decipher relationships to employees, projects, and customers.
Video
Technologies such as object detection and action recognition are widely used in the sports industry to analyze matches or players. Clubs often build video recording systems to their training facilities to extract training data, which helps coaches to build their strategies and tactics for real games in a data-driven fashion. Information regarding the fitness status of players or attributes of players can be identified by analyzing training/match videos and personalized training or diet programs can be provided to players.
Videos are widely used also with commercial and communicational purposes. However, many industries suffer from a lack of data extraction from videos and analysis of these videos. Companies can use AI-integrated ECM to understand their customers, employees or their business processes better by analyzing video content.
Other
AI-powered technologies such as image recognition and voice recognition can extract information from image and audio files. For example, images uploaded to the ECM system can be tagged automatically by image recognition systems, and the content of the image can be noted as a text without human intervention. Similarly, audio files can be transcribed into text files.
Content management
Advanced Protection of Content
Personally identifiable information is strictly protected by regulations such as General Data Protection Regulation (GDPR), and companies are expected to protect their customers' sensitive data and privacy. Automated redaction powered by AI and other data masking techniques can help protect content stored in the ECM and minimize the risk of a data breach.
An AI-based ECM system can identify sensitive data such as bank accounts of customers or tax files and make suggestions to redact. Recognizing sensitive data and confidential documents can also help ECM treat these content differently and automatically store them in environments with better protection.
Recycling Content
Companies often store all sorts of data in content silos, and as years pass, some of the content is abandoned in those silos with outdated data or file formats. According to Gartner, 80% of enterprise data is unstructured. An ECM system with AI integration can read and process these unstructured data, update the formats, and extract information. Therefore, old data can be converted to searchable formats, and new insights can be derived from historical data by integrating AI into the ECM system.
Google's Document Understanding AI service enables users to automate key document processing workflows and extract valuable knowledge from those documents by employing technologies such as Natural Language Classification (NLC), Optical Character Recognition (OCR), Semantic Reasoning, and others: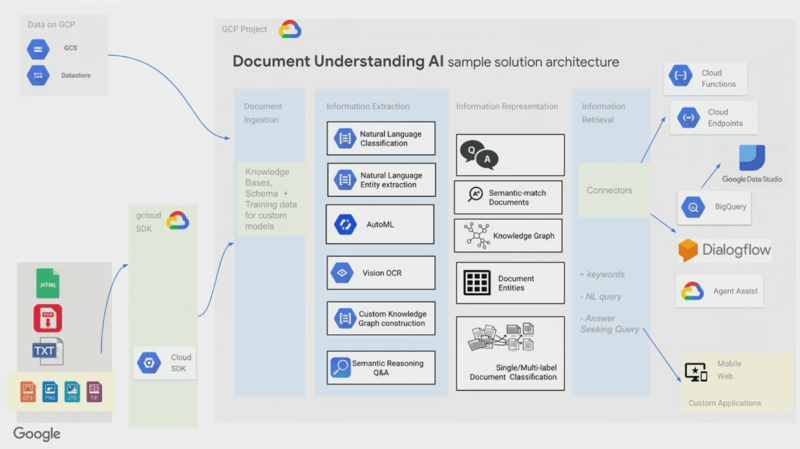 Content Marketing & Marketing Automation
AI-powered ECM could be used in marketing use cases however we have seen limited applications of this yet as domain specific tools (e.g. those specialized on web content) bring together both analytics and language understanding capabilities to achieve these use cases:
It can analyze content performance and provide insights and feedback.
It enhances customer retention by targeting and personalizing the content of a web page.
It can provide content recommendations and generate instant dynamic personalized content for visitors.
By "reading" the articles, it can ensure the content and brand positioning's compatibility and consistency.
It can identify overrepresented or missing topics within the content.
Overall capabilities
Collaboration
ECMs improve the collaboration of employees from different departments thanks to version control and search functionalities. However, AI-powered ECM can take this collaboration a step further. Recommendation engines can be integrated into ECMs suggesting possible collaborators.
Improved Search Capabilities
ECM systems also help employees to retrieve information or documents they are seeking. According to Gartner voice-driven search queries will be the dominant search mode, and AI-powered ECM systems can provide this service.
Process Automation
An AI integrated ECM system also enables companies to automate their business processes such as invoice processing. To understand process automation better, you can explore process automation in IT, its use cases, and robotic process automation (RPA).
What are example case studies of companies using AI in their ECM systems? 
Especially large companies with complex documents and data are benefiting from adoption of AI technologies in their ECM. We are compiling a list of such case studies.
How do ECM vendors integrate AI in their solutions?
OpenText Magellan:
OpenText Magellan is an AI and ML engine integrated with other OpenText products (including Content). OpenText Magellan applies machine learning algorithms to spot documents, classify the documents, conduct content analysis, and deploy pattern analysis.
IBM Box Skills:
IBM helps organizations to build custom Box Skills that apply Watson AI technologies to the Box Skills framework. Features include
Custom image insights
Custom document insights via Watson Natural Language which allows labeling documents automatically according to their concepts, entities, or keywords.
Oracle WebCenter Content:
With Oracle WebCenter Content, enterprises can improve digital asset management via video conversions. Also, the system has the ability to show detailed information about image or non-­image documents. It also has improvements for document search and selection.
For more detailed information about ECM vendors, please check our ECM vendor selection guide or contact us:
How can we do better?
Your feedback is valuable. We will do our best to improve our work based on it.