Businesses from various industries are producing a vast amount of data they don't benefit from. Data is only valuable if enterprises can benefit from the insights derived from it. Lack of technical expertise in setting up and maintaining analytics solutions and the initial cost of an analytics investment can be barriers to achieve this. Cloud analytics services bring the value of analytics to businesses quickly without extensive setup times.
AaaS also replaces on-premise analytics with a cloud-based system. This enables companies to replace investment with operating expenses. Given the highly evolving nature of modern analytics, this enables companies to try various analytics approaches before making a large investment.
What is Analytics as a Service (AaaS)?
Analytics as a Service is the common name for cloud-based platforms for implementing analytics in different industries. Analytics as a Service is abbreviated as AaaS and it is also called cloud analytics. It is an alternative way to perform analysis and gain insights for businesses. AaaS services include end-to-end capabilities of an analytics solution from data acquisition to data visualization and reporting. Organizations acquire these capabilities with a subscription-based pricing model.
Though AaaS is an appealing option for some organizations, businesses may prefer going with a hybrid system. In the hybrid system, businesses leverage their internal resources for analytics that can be completed with internal capabilities and use cloud services for capabilities that they don't have within the company.
Why is it important now?
Data is continuing to be a game-changer advantage for companies. Though companies acknowledge the importance of data analytics and data driven decision making, the cost of implementing an effective analytics solution is a barrier in analytics solution adoption.
Analytics as a Service can meet those businesses' needs and help implement analytics across their organization. The AaaS market was valued at $9.62 billion in 2018, and is forecasted to reach $126.48 billion by 2026, registering a CAGR of 38.1% from 2019 to 2026.
Most on-premise analytics software need more investment and IT resources for setup. On the contrary, analytics-as-a-service provides analytics capabilities without high investment costs.
How does it work?
Cloud analytics platforms provide analytics software and analytics capabilities (e.g. data scientists) to companies as shown below: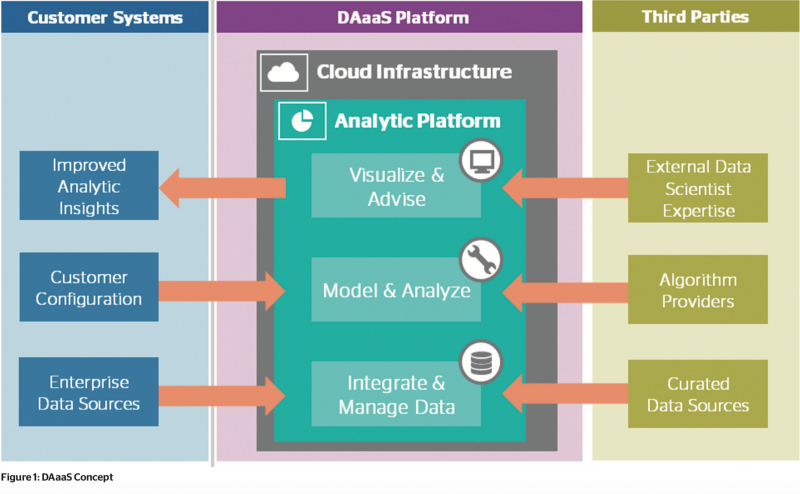 Pros&Cons of Cloud Analytics vs On-Premise Analytics
Pros
Cloud analytics eases the implementation and reduces the cost of applying analytics across the enterprise due to three following reasons:
Subscription pricing:

Businesses use cloud analytics tools as long and as much as they need it. Businesses have the flexibility to switch cloud providers. However, switching providers comes with switching costs such as connecting data sources to new services. In practice, it takes time and effort for enterprises to switch providers.

Easy access to analytics services:

Companies can easily provide their analytics consultants with access to their cloud analytics platform, enabling them to get up to speed quickly.
Cons
Privacy and Security: 

Sharing the confidential data of an enterprise can be concerning for companies. To prevent the risk of security vulnerabilities, organizations can use security applications, encrypted file systems, data loss software, and security hardware to track unusual behavior across servers.

Data upload latency:

With the continuous growth of data in an enterprise, moving large volumes of data to a cloud solution can be challenging. Performing real-time analytics on the edge is a more effective solution for time critical analyses.
What are the key players for the cloud analytics market?
1010 Data Inc.
Amazon Web Services (AWS)
Cloudera, Inc.
EMC Corporation
Good Data Corporation
Google Analytics
IBM Corporation
Oracle Corporation
SAS Institute
SAP Analytics Cloud
Sisense
Tech giants are providing cloud analytics solutions. Amazon Web Services (AWS), Google Analytics and IBM Analytics are the leading solutions offered by the tech giants.
Feel free to check our main analytics article as well.
If you still have a question, don't hesitate to contact us:
Sources:
How can we do better?
Your feedback is valuable. We will do our best to improve our work based on it.