Artificial intelligence and machine learning technologies are already revolutionizing many businesses. Especially B2B selling is one of the areas that artificial intelligence and machine learning software companies are cooperating with enterprises.
To understand how artificial intelligence is helping B2B selling, we need to understand B2B selling process.
We can divide B2B selling into two groups:
Inside sales managed by a CRM installation like salesforce
Field sales which include face to face meetings with clients
For both, selling process starts with lead generation which is identifying possible customers who may have an interest in the product that is offered. After that, leads are scored based on the possibilities and some are qualified as opportunities. Then, sales team converts these opportunities into actual sales with offerings and services.
Through this sales pipeline, there are many tools that assist sales teams to automate some of the processes or guides such as digital assistants that automate emails, automate meeting set ups; chatbots or some analytics software.
Artificial intelligence steps in at this point. Most new generation sales tools use artificial intelligence and machine learning systems. AI vendors enable companies to generate, score and convert leads.
Who are the stakeholders in B2B sales?
B2B sales environment is challenging, B2B sales reps need to put more effort than B2C sales reps. B2B researchers do 12 searches prior to engaging on a specific brand's site.  Therefore B2B sales tend to be more logical and slow. This is because in B2B
sales tend to be a higher volume 

mistakes in procurement can cost people their jobs

there are numerous parties involved
Typically B2B purchase decision-maker network involves 5 types of stakeholders:
Purchaser:

Researches the industry and prepares a shortlist. Typically has the first conversation with the sales reps and puts them in contact with other stakeholders. Could be from the tech organization, process/transformation unit or the business.

Users:

Ones who will actually use the product. Depending on the specific product or service, they may join the process later.

Advisors:

Trusted employees, third-party consultants or industry analysts who have experience in the industry. They influence decision making by suggesting new vendors to the shortlist or supporting vendors in the shortlist.

Final decision maker:

The one who approves or disapproves the purchase decision. After this step, the tech procurement process starts and compliance officials start to play an important role

Compliance:

Ones who protect the company from risky purchases, these include responsibles from procurement, legal, IT and information security departments.
Why is implementing AI into B2B sales processes important?
The idea of implementing AI solutions into B2B sales processes is getting popular among B2B companies.  According to Gartner,  30% of all B2B companies will employ some kind of AI to enhance at least one of their primary sales processes.
AI can automate numerous manual tasks that B2B sales reps are responsible for and improve the overall efficiency of sales processes. For example, The average sales rep who is using CRM spends 5.5 hours per week entering data on activities and contacts. All these activities cost companies an average of $13,200 per CRM user, per year. With AI, businesses can automate the process of inputting data into CRM systems and shift sales reps' focus into more value-added processes.
What are the trends in B2B sales?
Digital transformation
Digital transformation has already been in the agenda of B2B sales teams. However, COVID-19 pandemic further increased the importance of digital transformation. According to Mckinsey, sales leaders on average rate digital channels approximately twice as important now as they were before.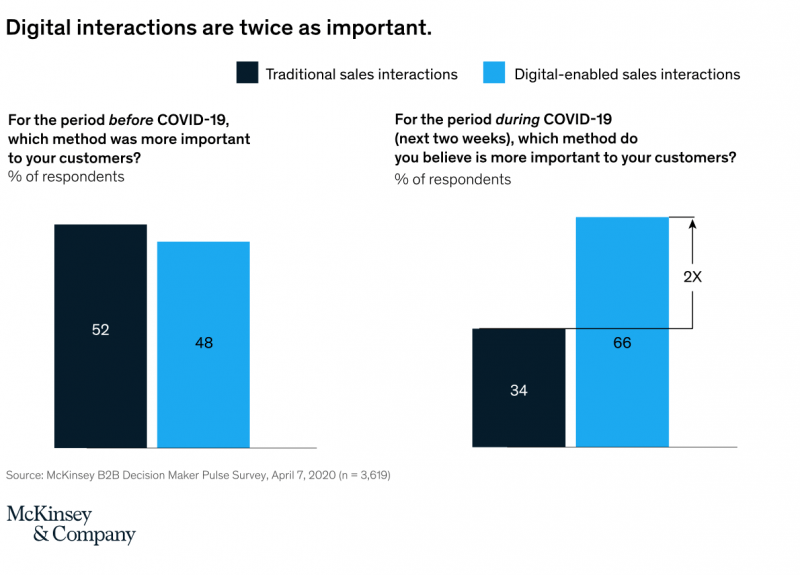 Along with the increasing importance of digital interactions, personalized customer journeys are still a hot topic of sales offices. Improving customer experience is one of the goals of digital transformation projects since B2B customers demand more personalization. Tools such as website/campaign personalization software enable businesses to deliver personalized products & service to their customers.
AI and analytics lead to data-driven sales
While digital transformation has been important since 2000s, machine learning and AI can further automate and improve digitized processes.
Advancements in artificial intelligence and its influence on analytics is increasing the reliance on data. Businesses are using analytics tools for a wide range of capabilities from price optimization to customer intelligence. By using these tools, businesses are developing data-driven sales strategies for maximum conversion.
Sales and marketing alignment
As tools that enhance lead generation increase, accuracy of assessing quality leads increases. Sales teams need to focus on leads that are the most likely to buy. Therefore marketing and sales teams need to align on the quality of the generated leads.
Talent acquisition & training for sales excellence
According to Mckinsey's research on the future of B2B sales, investing in finding and training the right talent is the driver that separates fast- and slow-growing companies. 48% of fast-growth companies invest significant time and resources in sales training while only 22% of slow-growth companies were investing during the same period.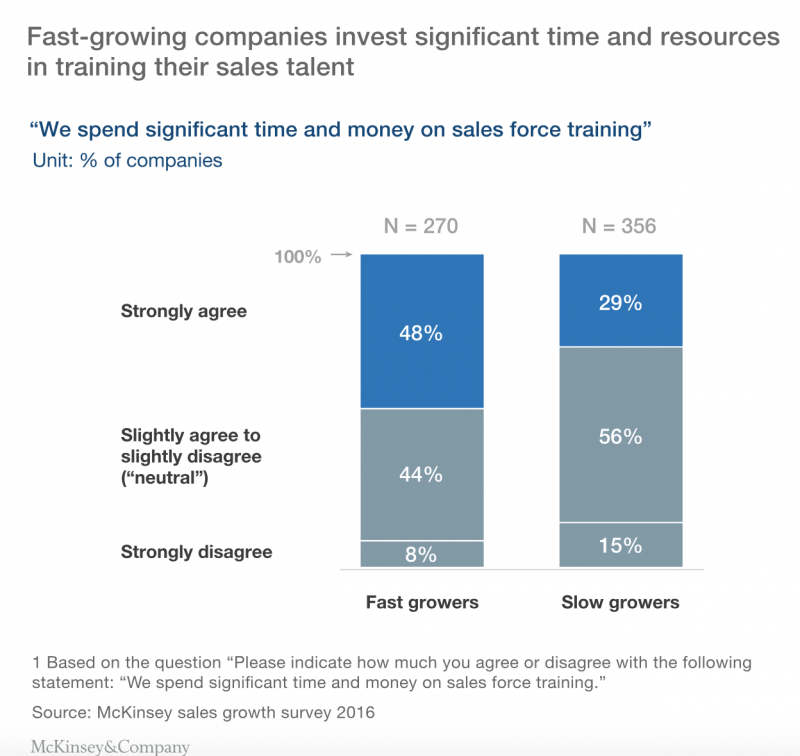 Honorable mention: Data Privacy
Due to data protection regulations such as GDPR, companies need to be more careful about customer data. In B2B, sales professionals should give confidence to customers for the privacy of data. Using privacy-enhancing technologies such as data masking or adopting AI data security tools can help businesses protect customer and enterprise data.
What are AI applications in B2B sales?
In B2B sales, businesses can leverage AI in 4 main categories:
Forecasting demand

Enabling sales reps to focus on the right prospect   

Automate sales activities from setting up meetings to sales rep chatbots

Using analytics to understand customers better
For more AI applications, you can check our article where we listed the top 15 AI use cases in sales.
Top 10 AI vendors that are helping B2B sales reps
Analytics
Qymatix

offers a comprehensive AI-powered predictive analytics solution to B2B teams. Capabilities of Qymatix predictive analytics software include identifying cross-selling & upselling opportunities and customer churn,

price intelligence

and

lead scoring

.

Zilliant enables businesses to perform predictive sales analytics and delivers insights about which

customers are likely to buy more and which customers are at risk for defection.
Chatbots
Maritu Techlabs'

WotNot is a chatbot-building platform that can start the conversation with prospects, ask relevant questions, offer value, and deliver qualified leads to the sales team. One of the best practices of B2B sales is personalized communication and WotNot delivers personalized messages to prospects who are interacting with chatbots.

Tact.ai is the sales experience conversational platform that turns a salesperson's connected device into an AI-powered smart assistant. The vendor aims to let sales reps use their voice to automate daily administrative tasks so they can spend more time focused on their core job.
Lead generation/ Predictive lead scoring
Cognism

is a B2B sales acceleration software company that offers an AI-powered marketing and sales acceleration solution. The software

triggers automated alerts when it identifies an optimal time to outreach for a specific customer. Cognism's platform also enables

businesses to target ideal customers and improve lead quality with real-time data.

Leadfeeder software offers lead generation, website visitor identification, account-based marketing and sales prospecting capabilities to B2B sales teams. The platform automatically scores leads and alerts sales reps when specific companies visit your website. It also eases the process of adding new visitors' inputs to CRM by automating it.
Automation
Affinity

is a relationship intelligence platform that analyzes sales data and shows sales reps who are best suited to make the crucial introductions you need to close the next big deal. 

Salesdirector.ai

analyzes each rep's pipeline and gives suggestions on when to generate a new pipeline. It performs AI-powered sentiment analysis to identify risks&oppurtunities on the pipeline and

ensures sales reps are engaging with the right relationships at the right time.

People.ai automatically captures activity and contact data from prospect and customer interactions. The platform also tracks prospects and customers represented across multiple accounts and ensures that the right contacts and activities are matched correctly in your CRM by using Natural Language Processing (NLP) technology. It also analyzes sales reps' activities,

identifies where sales reps' time and capacity is wasted, adjusts resource allocation, set benchmarks and deliver valuable insights about your sales processes.
For more information on AI-powered CRM solutions, feel free to check our comprehensive article and sortable list of 300+ CRM companies.
AI-powered account-based marketing
MRP is an account-based marketing platform. Though account-based marketing as its name refers is a marketing approach, marketing and sales processes are aligned operations in successful B2B sales examples. Therefore AI-powered account-based marketing tools can also help sales reps target the right prospect. The MRP Prelytix platform simplifies targeting process by using advanced ML algorithms to provide continuous optimization of targeting decisions capabilities, and trigger and control messaging across channels, platforms, and funnel stages.
For more information on AI in sales, please check out our sales section. You can also find an explanatory article about lead generation here.
If you still have questions about how artificial intelligence can help B2B sales teams, we would like to help:
How can we do better?
Your feedback is valuable. We will do our best to improve our work based on it.